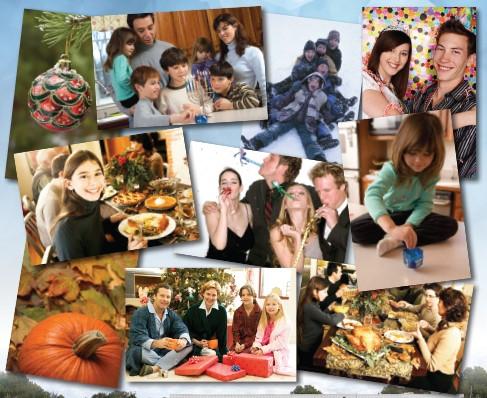 Give the Gift of Prints
It's going to be a little harder than usual to find gifts for your family and friends this holiday season due to supply chain issues.
I have some gift ideas for you and they're being stored right in your attic, camera, and in your phone. Try doing something creative with your pictures through the magic of printing and give them out to your loved ones. There's tons of interesting options beyond the traditional 4×6 glossy print. I'm going to cover a bunch of wonderful gift ideas as well as how to go from picture to final product. Like I said, these are gifts you already have. You can give something that's personal and unique without having to run around from store to store asking if it's in stock.
The first step is digitizing the images you want to print. If your pictures are on a memory card or on your phone, you're already halfway there. You can go right to the next step which I'll cover in a bit. If your photos are physical in the form of negatives, slides, prints etc….you'll need to have those scanned. You can come into New York Camera and Video and we'll scan them for you. We have a high resolution scanner that produces amazing results. We even offer repairs to damage that may have occurred to your pictures from years of degradation. Just bring everything in and we'll go over your options.
Once your images are digitized the fun begins; turning them into the perfect gift! Every idea I discuss can be ordered right in the store. We can't go up into your attic and find your old pictures for you but we can help you every other step of the way. We'll even assist those of you with memory cards and phones in transferring your images to our design stations. Your photo projects can be ordered in-house or even from our website.
Now, the most simple yet still impactful gift would be a framed enlargement. The paper chosen for enlargements can change the look of the print tremendously and creative decisions need to be made. Typically glossy prints aren't the best choice if the photo is to be framed behind glass. The gloss adds unwanted glare. A matte paper usually yields the best results when framing. We also have many unique papers to choose from like metallic and deep mattes. We even have a paper that's textured called cold press, it resembles water color paper. We have examples of everything in the store to help you decide.
If you want to turn up the wow factor another notch, consider turning your photo into a canvas print. We can print your image on real canvas and professionally stretch it over a pine frame. This is done in-house and printed with archival inks. The print will stay vibrant forever. The nice thing about a canvas print is that they look almost like an oil painting and you have the option of hanging them without a frame. They're perfect for wedding portraits, family photos, and landscapes. You're guaranteed to get a giant hug from whoever you give one of these to. They look fantastic.
There's many other great gifts you can make with your photos that DON'T get hung on the wall. We offer a wide variety of Christmas and Hanukkah cards. You can add your own photo and personalized message. Also, we can assist you in making personalized photo books. Photo books can be made in various sizes and materials. Photo books are another gift that will wow friends and family. Here's a fun idea, have your photo put on a coffee mug. A lot of our customers make mugs with their pet on it. Need an idea for a child? A picture of your choice can be turned into a puzzle!
It's important to print your images periodically. It will make you a better photographer. Images that look good on your phone's screen don't always translate as well printed. They might not be as sharp or have the impact that you thought they did. Sometimes the opposite is true. Many images don't really shine until they're blown up real big. The print is the final step of your work. Printing is a very enjoyable part of the creative process that not enough people do. The holidays are an excellent excuse to give it a try. If you happen to be someone who does make prints regularly, perhaps give a new material or paper a try. We hope to see you in the store this season. We'll help you make a great gift that will be cherished for years.
Kenneth Taylor
contact@nycv.com