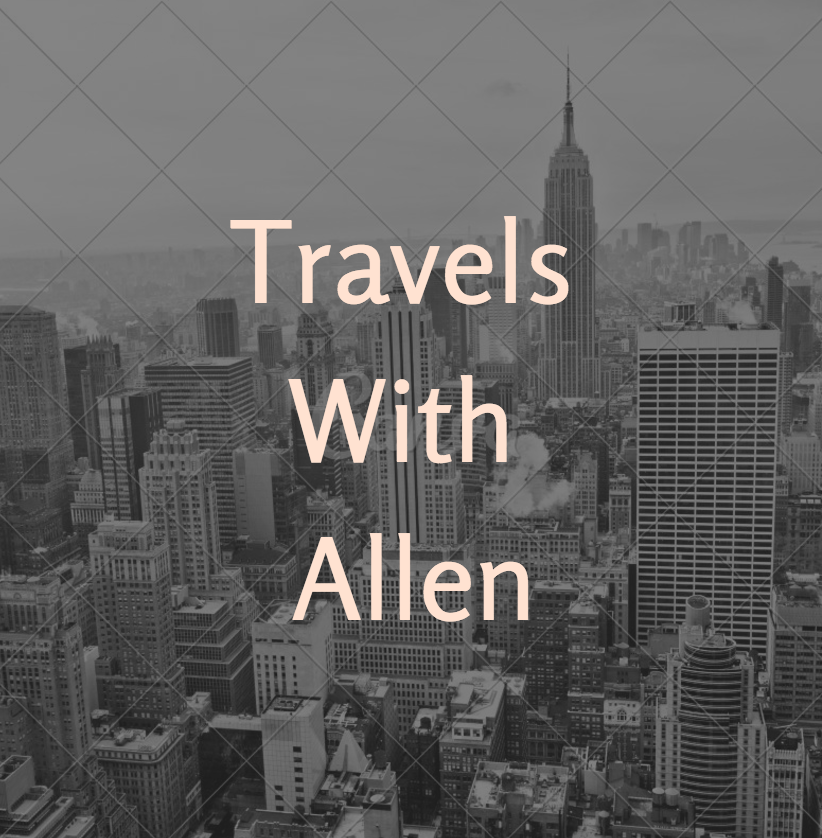 More Travels With Allen
My oldest son was awarded a scholarship to the University of Washington Medical School in Seattle. He never came home.
After my daughter graduated from Boston University she visited the future doctor. She is now living in Seattle. I am not stupid. Told our youngest son that he could never ever visit them in Seattle. When the two older ones returned home last week they claimed they were really eager to see us. Can I be honest? I think they miss Linda's kitchen and our favorite restaurants more than they miss us. Just kidding.
Returning from the airport they asked how we were doing, and then asked if The Pub, Shish-Kabob Palace, Pasta Fazool, and Mike's Bar and Grill, among other restaurants, were still open. It appears the West Coast was hit much harder by the Pandemic, and most places of business, including restaurants, are still closed.
The first night we were home we had dinner at the Shish-Kabob Palace. Their outside tent is down now and all servings are inside. Daniel, the owner, has expanded his menu considerably and "dressed up" portions of the dining areas. As I have stated repeatedly, this is one of our personal favorite spots. My kids agree and therefore it was one of their top suggestions. Once again, Shish-Kabob Palace didn't disappoint. The food was excellent, the service was great and the Palace is even more attractive than ever. By the way, the restaurant is looking for additional staff. As we go there frequently, we've noticed the people working there seem well treated, well paid and happy.
The following morning we had breakfast at a new spot for us. Simply Delicious by Tina is a new spot in Jamison on York Road. (Actually it is an old spot minus a partner.) Normally breakfast is just breakfast … eggs, pancakes toast or bagels. Not the case at Simply Delicious. Tina has created an unbelievable assortment of unique meals for breakfast and lunch. Her dinner menu is loaded with even more unique and tasty meals. Trust me, hit this spot before the word gets out.
Back in Hatboro, our kids insisted on visiting Nonno's Bakery on York Road in Hatboro. WOW! This place is fantastic and is packed with some of the most mouth watering delights to be found. Every one of our relatives when visiting us requests at least one visit or two at Nonno's. I try to avoid it because I instantly go out of control and want to relocate the total inventory into our home! This place should be in Manhattan. I'm thinking it might be under appreciated in Hatboro.
We had a great late lunch at Mike's Bar and Grill on York Road in Warminster. We had never been there before. (How many restaurants can you visit?) We took advantage of their outdoor tent and had a most relaxing and enjoyable time. Everything was top notch. From the selections, the service, the portions … it is a place we will visit many times in the future. Before I forget, their plate presentations were spectacular.
Our final meal was at Pasta Fazool. As always the food was excellent, ample and varied. We live near the restaurant and eat there frequently. Great place for outside dining during the past year. Good stuff, presented nicely with frequently creative daily specials. And it's one of the few spots that still serves a large variety of veal dishes.
.
But before I forget, next door to Pasta Fazool is a new middle eastern restaurant that just opened. The food at Rozana is excellent, the prices are extremely reasonable and the portions are considerable. I hope this family-owned business does well. Nice people as well as good food. As an aside, they ran an ad with a twenty five percent coupon in one of our April editions. When Andy, the owner, realized that his ad wasn't everywhere, he volunteered the discount to all of his unknowing diners. He is doing the same thing this month. You can find their ad again between our covers this month. Last time we were there he mentioned how many "be backs" were returning repeatedly. It's a great opportunity to try a new casual restaurant.
The last night Robin and Eric were here we had dinner at La Cena in Bensalem. Simply stated, this restaurant belongs somewhere other than in the heart of Bensalem. It is a class act! Super bar, live entertainment and wonderful meals served in an elegant setting. Maria, the owner, as well as being one of our friends, watches this place from kitchen-to-table, like a hawk. Linda, and my kids, can't say enough compliments for this Italian food oasis.
Eric really wanted to hit The Pub in New Jersey. We just didn't have enough time (or room in our tummies). Not to be repetitive, this is one of the top spots on my list. The restaurant, resembling a huge fourteenth century castle, also holds many favorite memories for me. Spent many nights there as a high school and college student after proms and dances. Without going into detail, I took my first "appreciative "date there. Talk about dessert!
Before they left, on the way to the airport, they stocked up with donuts from Yum! Yum! on Street Road and, believe this or not, ten steak sandwiches from Old School Burger. I can assure our readers that the Far Northwest has nothing to compare with their cheesesteak sandwiches. They are the best, repeat, the BEST.
So you see, our kids came to visit to eat… I guess the lock down in in Washington and Oregon left them hungry and anxious. It was great that good ole' Dad and Philadelphia could satisfy their cravings. Maybe it will do the same for you. For me, for us, it's a lot less calories for a bit. We need to recover from a much enjoyed visit in more ways than one! See you next month.
Shish-Kabob Palace
1683 Grant Ave, Philadelphia, PA 19115
(215) 856-3404
Simply Delicious by Tina
2244 York Rd., Jamison, PA 18929
(267) 483-8235
Nonno's Bakery
100 S York Rd, Hatboro, PA 19040
(215) 675-5817
Mike's York Street Bar & Grill
544 York Rd, Warminster, PA 18974
(215) 672-3300
Pasta Fazool
804 S York Rd, Hatboro, PA 19040
(267) 282-5442
Rozana Mediterranean Grill
802 S York Rd, Hatboro, PA 19040
(267) 400-0022
La Cena
2233 Galloway Rd, Bensalem, PA 19020
(215) 639-9969
The Pub
7600 Kaighns Ave, Pennsauken Township, NJ 08109
(856) 665-6440
Yum Yum Bake Shops
500 West Street Rd, Warminster, PA 18974
(215) 441-4477
Old School Burger, Dogs & Shakes
1135 York Rd., Willow Grove, PA 19090
(215) 657-5309