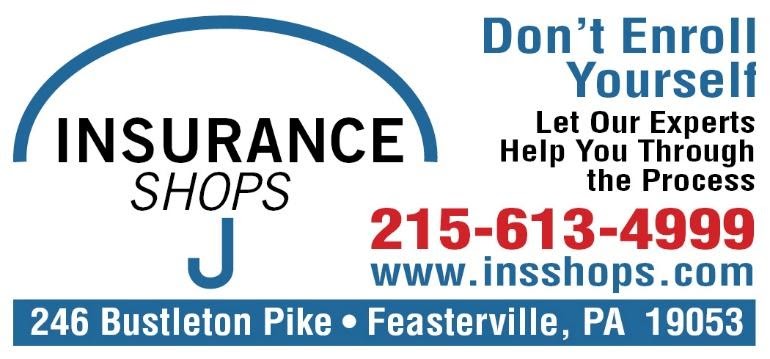 Insurance Shops: We Will Protect You
Why are you not asking our experts
to help you when…
• 50% of consumers do not understand key health insurance concepts?
• 72% of consumers say purchasing or using health insurance is confusing?
• 37% suffer anxiety over affording health insurance?
• 57% avoid seeking medical care because they fear it won't be covered?
We are a FREE Enrollment Center and have helped thousands of your neighbors with their insurance needs. As Brokers we have access to 200 insurance companies. We make sure clients are covered correctly and with the lowest priced products. We fix mistakes that people make by doing this themselves every day. As one of the most highly reviewed agencies we have a 5 star rating. We are the trusted member benefits exclusive insurance agent for the Lower Bucks County Chamber.
Our NEW Exclusive Blue Cross PEO for employers will save most companies 15% or more on their Health expenses. 10 minute quotes for General Liability, BOP, Cyber, Workers Comp or voluntary company benefits.
Do you have a CD or investment coming due? We can offer a guaranteed 7% using Insurance products. Call for details!
With our new life insurance quote tool, you can get a quote, apply, and have the policy in hand from many carriers within minutes. Protect your loved ones now! Do not think using Go-Fund me as your plan will be the answer. IT IS NOT!
Medicare: Are you or do you know any seniors confused with Medicare? We make the Medicare maze easy! We help thousands of seniors transition into Medicare and our clients understand it. Our clients get the best plans and the lowest prices with ongoing service for years to come. We are a FREE Enrollment center and never charge a fee to the client. Yesterday, we had a call from a client who asked if we could help his parents with Medicare. They were paying $230 each and we suggested a zero cost plan that was almost identical, saving them $6000/per year in perpetuity. He was angry at himself for not calling us two years ago to do this as they really could have used the 12K these last 2 years. What are you waiting for?
Now is the time to check your home policy to make sure the coverage keeps up with the increases in building costs. Don't find out too late that you don't have enough coverage.
Clients call all the time who tried to navigate the insurance maze themselves only to find they have a cheap policy but not the right coverage. They ask for our help after getting denied or not collecting enough on a claim because they saw an ad from a fly by night company or answered a cold call. Do not let this happen to you!