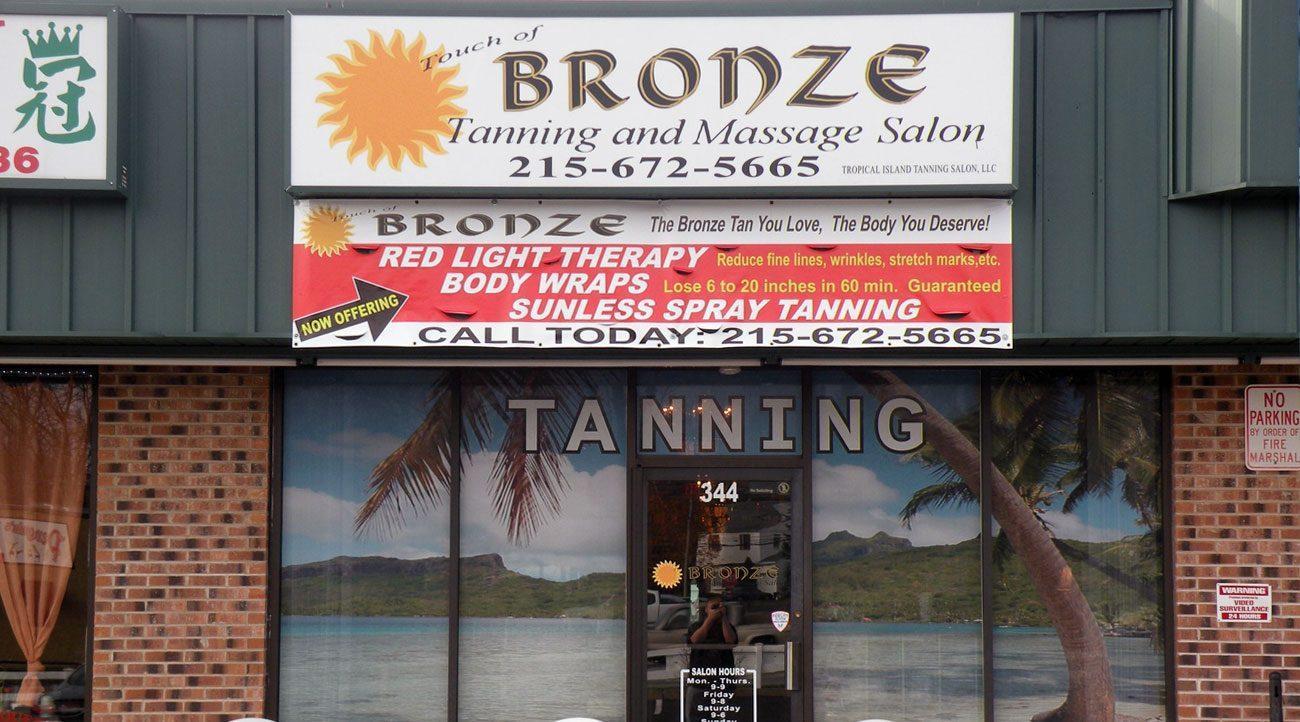 Meet Studio 344 & Touch of Bronze
Studio 344, in the hub of Warminster on York Road, next to the iconic Tony Luke's, is a full service mecca for all your beauty needs. Hair, nails, waxing, tanning and airbrush, and bodywraps; just make your selection and the folks at this bustling studio will provide whatever you're looking for. And yes, it really is a studio because there's so much happening there! P.S. They're introducing lash extensions just in time for "Prom."
I spent some time with the owner/manager, Beverly Turner, and literally got swept away by her enthusaism for Studio 344. She comes to Warminster via Virgina Beach, Virginia, where she owned and operated some six spots for Beverly Hills Weight Loss Centers. Her first love was the weight loss industry and after some change in the Beverly Hills Weight Loss program, she was invited to work with NutriSystem, in their corporate office in Horsham. She liked the idea. So she packed her bags and travelled north!
As she tells it, it's a great story how she ended up owning and managing Salon 344. I think it was just fate. I believe she would agree…. or maybe it was just plain karma, but finding herself in the middle of very un-beachlike Warminster is where she landed.
While we talked, clients were busy running back to the tanning rooms. Some were getting their tan airbrushed. Whatever their choice, it was clear that with over 300 clients a day, Beverly and her staff are tanning-central for this extended area. She reminded me that she's in the thick of Prom Season and Spring Break. Hair styling, manicures, pedicures, tanning and airbrushing are all the finishing touches needed by today's prom-perfect young lady!
AND, if you're looking for some toning and tightening, or need a little help with your weight loss, a body wrap is just the ticket. I learned that, along with serving as a detoxifying agent, shrinking fat cells and smoothing out cellulite, body wraps help your body adjust to weight loss (by tightening) and the infared blanket used speeds up the whole weight loss process.
We talked about the healthy side of tanning; there's so much caution surrounding this procedure. According to Beverly, "We monitor our clients' exposure times closely. Five minutes to start with and then gradually, very gradually, we increase the exposure time. This is the best formula for a healthy, satisfying tan. We don't want a 'burn.' We also require that clients protect their eyes and wear a special body lotion that protects the skin's elastin from breaking down. It's all part of client education that everyone walking in the door receives."
The adjoining hair salon, managed by Cheryl Zicardi, has been renovated and reflects the youthful feel that is synonymous with Studio 344 and Touch of Bronze. Clients can get their hair cut, colored and styled and then take care of their tanning needs… all in one coordinated appointment. Now that's real time management!!
We talked about hair extensions and the lastest in coloring, Balayage. The ombre, hair strands going from black to brown is among the hottest of coloring trends. And for those of us who are a bit more funky (like me), blues, pinks, and purples are sizzling!
Nails? The Gel Manicure seems to be the preferred route as it is healthier for the nail, doesn't require the same level of maintenance that acrylic nails require and it's more affordable. I was unfamiliar with SNS, another kind of manicure product similar to acrylic. It presents minimal damage to the real nail. This is another popular option for keeping your nails "on trend."
Salon 344 and Touch of Bronze works hard to keep their clients "on trend." Whether it's tanning, or hair cutting, or coloring or a massaged-accompanied pedicure, Beverly and her crew bring to women (and men!) the finishing touches so important to good grooming and good looks. And it's right in Warminster on York Road. How lucky are we?!