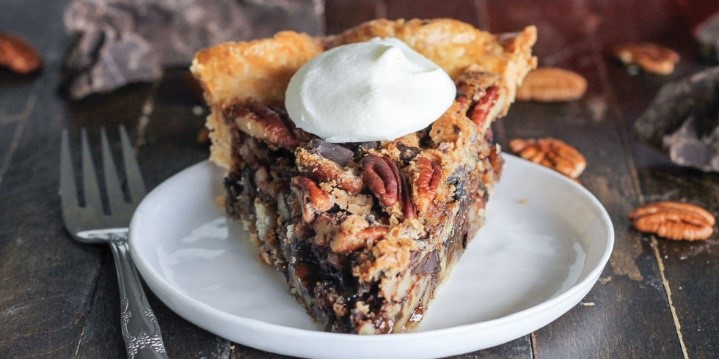 What's Cookin'
Thinking about Thanksgiving yet? What you're cooking? What you're preparing for the brave hostess welcoming the minions into her or his home? How 'bout the next day? What's going on then? We've got some suggestions… something new'ish, something old'ish…. But all de'lish! Bon Appetit and enjoy!
DARK CHOCOLATE PECAN PIE
3 eggs
½ C. sugar
½ c. brown sugar
¾ C. dark syrup
4 Tbsp. margarine, melted
½ C. coarsely chopped dark chocolate
(chocolate chips work)
1½ C. pecan halves
1 store-bought pie shell, thawed
Preheat oven to 350°F.
Whisk eggs and sugar in a medium bowl.
Stir in syrup and margarine.
Add the chocolate and pecans. Pour mixture into thawed pie shell and bake for approximately 55 minutes. Bake until filling is puffy and still a little shaky. Cool before serving. Serve with whipped cream or some vanilla ice cream. Yum!
APPLE SALSA
2 8oz. Fuji apples, peeled, cored, diced
1 8oz. Granny Smith apple, peeled, cored, diced
½ C. coarsely chopped cilantro
3 Tbsp. honey
2 Tbsp. fresh lime juice
½ tsp. cinnamon
Place all ingredients in processor. Using on/off turns, chop finely. (Not puree!!) Transfer salsa to bowl. Season to taste. (If water surfaces following refrigeration, just drain off liquid.)
HONEY-GLAZED OVEN-ROASTED SWEET POTATO WEDGES
5 long slender 10-oz. red-skinned sweet potatoes (yams)
¼ C. olive oil
1 tsp. salt
Honey
Preheat oven to 400°F.
Peel sweet potatoes, then quarter them lengthwise. Rinse with cold water and pat dry. Place potatoes in large bowl, add olive oil and salt. Toss to coat.
Arrange in a single layer on baking sheet. Roast 45 minutes. Brush with honey and roast until tender and beginning to brown, about another 15 minutes. Garnish with fresh parsley.
PEAR AND DATE DRESSING
7 C. bread cubes, can use pre-packaged stuffing cubes
1 medium onion, chopped (1 C.)
1 Tbsp. margarine
1 large garlic clove, minced
3 medium ripe pears, peeled and chopped (3 C.)
1 C. chopped dates
1 C. pear nectar
3 Tbsp. fresh thyme, chopped
1 C. chicken broth
2 Tbsp. honey
Salt and pepper to taste
Preheat oven to 350°F.
In medium saucepan, saute onion in margarine until tender. Add garlic and cook 1 minute longer. Remove from heat. Add pears, dates, nectar, thyme and stir to combine.
Transfer bread cubes to a large bowl. Add pear mixture and toss gently. Drizzle with broth and toss until moistened. Pour into a prepared baking dish.
Cover and bake for 30 minutes. Bake an additional 20 minutes uncovered or until top is brown and stuffing is heated through. Drizzle honey on top.
NEXT DAY FRENCH TOAST
12 slices French bread or challah
6 eggs
1¼ C. milk
¼ C. half and half
¼ C. sugar
2 Tbsp. maple syrup
1½ tsp. vanilla extract
Arrange French bread or challah in a prepared 9-by-13 inch baking dish. In a large bowl, beat eggs, milk, half and half, sugar, maple syrup, and vanilla extract. Pour over bread and refrigerate, covered, overnight.
In the morning, turn slices over once or twice to make sure they're covered with egg mixture. Bake at 400°F. for 15 minutes. Turn over and bake for 20 minutes until golden brown on top. Put in broiler to brown top a bit more if desired. Serve with fresh fruit or syrup