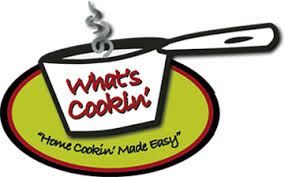 In The Kitchen
It's summer, and I'm ready for fresh fruit and veggies, and even for some comfy food for this "comfy" season. My daughter-in-law is a real fan of the Watermelon-Basil Salad. Don't think there's anything more "Summer" than watermelon!! And my grandkids love making the Yogurt Parfaits. Of course, eating them isn't that bad either!!!! Check out this month's offerings and see where you fall on the "preference scale." Personally, I like the Mango-Chicken Stir Fry and the Pepper Noodle Bowl… REAL comfy food for me! We hope you enjoy it all!!!
PEPPER NOODLE BOWL
6oz. dried linguine
¼ C. ketchup
¼ C. soy sauce
1 Tbsp. cider vinegar
2 to 3 tsp. Asian chili paste
2 Tbsp. peanut or canola oil
2 C. bite-size red sweet pepper strips
1 tsp. ginger
11/3 C. snap pea or snow pea pods, trimmed
and halved crosswise
Lime wedges
Cook noodles in a large saucepan until tender. Drain.
For sauce, in a small bowl, combine ketchup, soy sauce,
vinegar and chili paste.
Heat oil in a skillet. Add sweet peppers, garlic, and ginger.
Cook until peppers are crisp-tender. Add pea pods and cook and stir for 1 minute. Add noodles and sauce. Toss to coat.
Cook until heated through. Divide noodle mixture among bowls. Top with squeeze of lime.
MANGO-CHICKEN STIR-FRY
1 C. orange juice
3 Tbsp. reduced-sodium soy sauce
3 cloves garlic, minced
1 tsp. Chinese 5-spice powder
¼ tsp. crushed red pepper
12 oz. skinless, boneless chicken breast,
cut into bite-size pieces
2 Tbsp. cornstarch
2 Tbsp. vegetable oil
3 C. precut fresh stir-fry vegetables
2 C. cubed fresh or bottled mango
11/3 C. hot cooked brown rice.
3 Tbsp. cashews
For sauce, combine orange juice, soy sauce, garlic, Chinese five-spice powder and crushed red pepper in a small bowl.
Toss together meat and cornstarch in a medium bowl. In a skillet, heat the oil and add meat. Cook for 4 minutes. Add vegetables and cook for 1 minute. Add sauce and cook for 2 more minutes until thick and bubbly. Stir in mango. Serve over brown rice and top with cashews.
WATERMELON-BASIL SALAD
2 C. cubed seedless watermelon
1 C. chopped cucumber
1 Tbsp. balsamic vinegar
11/2 tsp. extra-virgin olive oil
2 Tbsp. torn fresh basil
Salt & pepper to taste
Combine watermelon, cucumber, vinegar, and oil in a medium bowl. Toss to coat. Sprinkle with basil and season to taste.
YOGURT PARFAITS
In a cup of your choice, preferably glass and transparent. Kids will enjoy seeing the different layers.
• Add about 6 Tbsp. vanilla Greek yogurt to 4 small glasses.
• Top each yogurt with 1 Tbsp. almond butter.
• Hull and thinly slice 8oz. fresh strawberries.
Into glasses, layer half of strawberries. (Can use fresh blueberries if you prefer, or even fresh peaches sliced.)
• Drizzle ½ Tbsp. honey into each glass. Repeat layering with 6 Tbsp. yogurt, 1 tbsp. almond butter, strawberries and ½ tbsp. honey.
• Top each glass with 1 Tbsp. sliced almonds. Serve ASAP. (My grandkids like chocolate morsels on the top.)