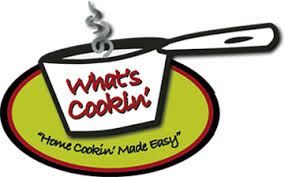 In The Kitchen
Spring is calling and so are our tastebuds! This month we offer some light salads that speak to the season of "light." Of course, we still have one foot in winter… check out our Stuffed Potato recipe and see if that doesn't provide the comfort food your winter soul needs! The salmon dish may be a little spicy, so go easy on the wasabi until you figure out how much satisfies your palate. Bon Appetit!
ROMAINE WEDGES W/TANGY BLUE CHEESE VINAIGRETTE
½ C. olive oil
3 Tbsp. white balsamic vinegar
1½ tsp. anchovy paste
1Tbsp. minced garlic
1 C. crumbled Blue Cheese
2 small hearts of romaine, halved lengthwise
½ small red onion, thinly sliced
Combine first 4 ingredients in medium bowl. Whisk in cheese, leaving some whole pieces. Season with salt and cracked pepper. Place romaine on plates. Drizzle ¼ C. dressing over center of each. Top with onions and some whole pieces of cheese.
CRUNCHY WASABI SALMON W/LIME
¾ C. wasabi peas
4 8-oz. salmon fillets with skin
1 Tbsp. finely grated lime peel
2 Tbsp. olive oil, divided
6 C. thinly sliced red cabbage
1 8oz. pkg. trimmed sugar snap peas
2 Tbsp. fresh lime juice
Preheat oven to 400°F. Blend wasabi peas in processor until ground with some pieces coarsely crushed.
Lightly oil rimmed baking sheet. Arrange salmon, skin down, on prepared sheet. Sprinkle fish with salt. Press ground wasabi on tops of salmon, covering fillets completely. Sprinkle grated lime peel over salmon. Drizzle with 1 Tbsp. oil. Roast salmon just until center is opaque, about 10 minutes.
Heat remaining 1 Tbsp. oil in large nonstick skillet over medium-high heat. Add cabbage and sugar snap peas and saute until crisp-tender. Season to taste.
Transfer 1 fillet to each plate. Drizzle with lime juice. Mound cabbage-snap pea mixture alongside. Garnish with lime wedges and serve. Yum!
MIXED GREEN W/SAUTEED PEARS
1 Tbsp. olive oil, plus more for dressing
2 pears, cored, cut into 16 pieces
6-8 C. greens
vinegar
salt
In a nonstick pan over medium heat, saute pears with olive oil. Cook until lightly browned, about 5 minutes. Spoon warm pears onto greens. Drizzle with vinegar and olive oil. Season with salt and pepper.
STUFFED BAKED POTATOES W/HORSERADISH CREAM
6 large russet potatoes, rinsed, dried
6 Tbsp. plus ½ C. sour cream
6 Tbsp. butter
4 Tbsp. prepared white horseradish, drained
2 Tbsp. fresh dill, chopped
Preheat oven 400°F. Pierce potatoes with fork. Bake about 1 hour until crisp on the outside and cooked through. Cool for 5 minutes.
Cut off top third of potatoes. Scoop potatoes from bottom into large bowl, leaving ¼-inch shell. Scoop potato from tops and add to bowl.
Mash potato with 6 Tbsp. sour cream, butter and 2 Tbsp. horseradish. Season with salt and pepper. Spoon into potato shells to fill.
Mix ½ C. sour cream, 2 Tbsp. horseradish and dill in small bowl. Set aside.
Preheat oven to 400°F. Place filled potatoes in baking pans and cool until heated through and golden brown. Spoon sour cream topping on each and serve!