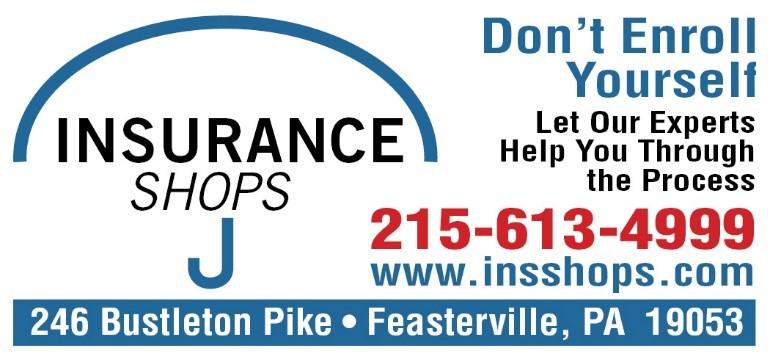 Insurance Shops
FREE NEIGHBORHOOD INSURANCE RESOURCE
Folks, you have a great FREE resource right in your back yard at the Insurance Shops. Support your neighbors and see how much you can save while getting better coverage for everything.
If you want health insurance, or want to change your plan, we can help you. No pre-X, lots of subsidies available for new low cost or no cost plans. We are a FREE Enrollment Center, so get expert help with PENNIE or GetCoveredNJ. Don't do this yourself. As your agent we promise to ALWAYS have your back when you need help. Get 5 star rated customer service and expert help for no extra cost. Call us first for all your insurance needs.
Turning 65? We can help you navigate the maze of Medicare to maximize your benefits for the least cost. We have helped thousands of seniors and do not charge a fee for our services. If you already have Medicare, we review your plan options and educate seniors on ALL their options. We have dedicated health professionals to help with all the drug plan choices. And we patiently explain everything, so you understand your benefits.
One-Stop Agency for Car, Home, and Renter's Insurance. Many people insist on buying car insurance online thinking it is cheap, only to find out later they are grossly underinsured when something occurs. About 1 in 8 motorists drive around uninsured. Protect yourself and make sure you are properly protected.
Life Insurance Reminder: Most Life Insurance is not for you; it protects your family. To protect yourself, for a few dollars more, add a low-cost living benefit rider to a term policy and then up to 90% of the death benefit is available upon a critical illness diagnosis. GO-Fund-ME is NOT life insurance!! Without life insurance, you could be a burden to your wife and kids. Get 5 minute FREE quotes from us and the dozens of companies we represent.
Disability Insurance protects your biggest asset, your ability to earn a living should something occur comparable to the recent COVID shutdown. 5-Minute quotes available.
FREE Business Insurance quotes from multiple companies in a few minutes. Fast Free quotes and policies for General Liability, Businessowners Policies, Workers Comp, Commercial Auto, Cyber Liability, Special Events Coverage, and Bonds. Make sure your business and company vehicles are protected.
Insurance Shops are brokers with Most Major Companies for every type of insurance. We help you protect you and your family. It is our job to help you be covered properly at the lowest cost. Our Motto: We will do the right thing for you to protect you. If you can crash it, burn it, break it, or earn it, we can insure it! We Shop It, You Save! We are Lower Bucks County Chamber Official Insurance Member Benefits Agency. Experience 5 Star service. Call now!