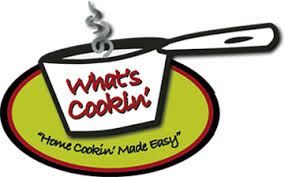 In The Kitchen
Ok, it's summertime and you've an open-door policy with friends and family. Visits are encouraged whenever it's convenient. Fun, food and friends are almost synonymous with the season. But what to prepare so you're not relegated to the hot kitchen missing all the fun?
Check out below and see where we take you this month. Prep work can be done in advance. You can even get your guests involved in making their own skewers, regardless their age! Turn to you prep aisle in the market for veggies already cut. It will save you time and effort; oh, so convenient. We think these suggestions are just the thing for satisfying you AND your guests. Give them a try. You both might like them!!
MIXED OLIVE SALAD
2 medium garlic cloves
¼ C. capers
1 C. drained ripe black olives
1 C. drained pimento-stuffed salad olives
2 Tbsp. red wine vinegar
2 tsp. dried oregano
½ C. extra-virgin olive oil
½ C. finely chopped celery hearts
Mince garlic cloves in food processor. Add capers, pulse to chop. Add olives, vinegar, and oregano, pulse to chop.
Turn mixture into a medium bowl, stir in olive oil and celery. (Can be refrigerated in airtight container for several weeks.) Serve on crackers or endive leaves.
PEAR SLAW
4 C. cabbage, thinly shredded
3 green onions, sliced thin
1 firm pear, cut thinly
DRESSING
¼ C. olive oil
2 tsp. Dijon mustard
1 Tbsp. honey
Juice of 1 lime
¼ c. dried cranberries
Mix cabbage, carrot , green onions and pear in a bowl. Whisk together dressing ingredients and toss with coleslaw.
HUMMUS WITH YOGURT
AND LEMON
2 large garlic cloves
1 15-oz. can garbanzo beans, drained
2 Tbsp. plain nonfat yogurt
2 Tbsp. tahini
2 Tbsp. fresh lemon juice
1 tsp. ground cumin
Mince garlic in processor. Add remaining ingredients and blend until coarse puree remains. Season hummus to taste with salt and pepper. Serve at room temperature.
SPINACH-ARTICHOKE DIP
WITH A KICK
Microwave 5 oz. fresh baby spinach on high until wilted, 1-2 minutes. Chop coarsely. Mix with 9 oz. finely chopped, thawed frozen artichoke hearts, ¾ C. shredded Pepper Jack, ½ C. grated Parmesan, ½ C. mayonnaise, 1 minced Thai chile and 1 minced clove garlic. Transfer to a 1-qt. baking dish, bake at 375°F. until brown and bubbling, about 25 minutes. Serve with veggies or chips.
BOW-TIE SALAD PICKS
Whisk ¼ C. Italian dressing, 12 rehydrated sun-dried tomatoes and 12 quartered artichoke hearts (not marinated). Add 60 pieces cooked and cooled bow-tie pasta. (Can be tri-color pasta for more interest.) Toss in dressing. Thread veggies and pasta, alternating with fresh basil leaves. You'll need 12 bamboo skewers.
TERIYAKI SKEWERS
Cut 10oz. salami into 18 cubes. Thread onto 6 water-soaked bamboo skewers, alternating with 18 chunks fresh pineapple. (Can use metal skewers if using an outdoor grill.) Brush skewers with 1 Tbsp. Teriyaki sauce. Bake at 375°F until lightly caramelized. Serve with Teriyaki sauce for dipping.
RICOTTA-APRICOT CRACKERS
Top 12 small crackers with 1 tsp. Ricotta and diced dried apricots. Drizzle with a touch of balsamic vinegar or balsamic glaze. Sprinkle with thyme leaves.