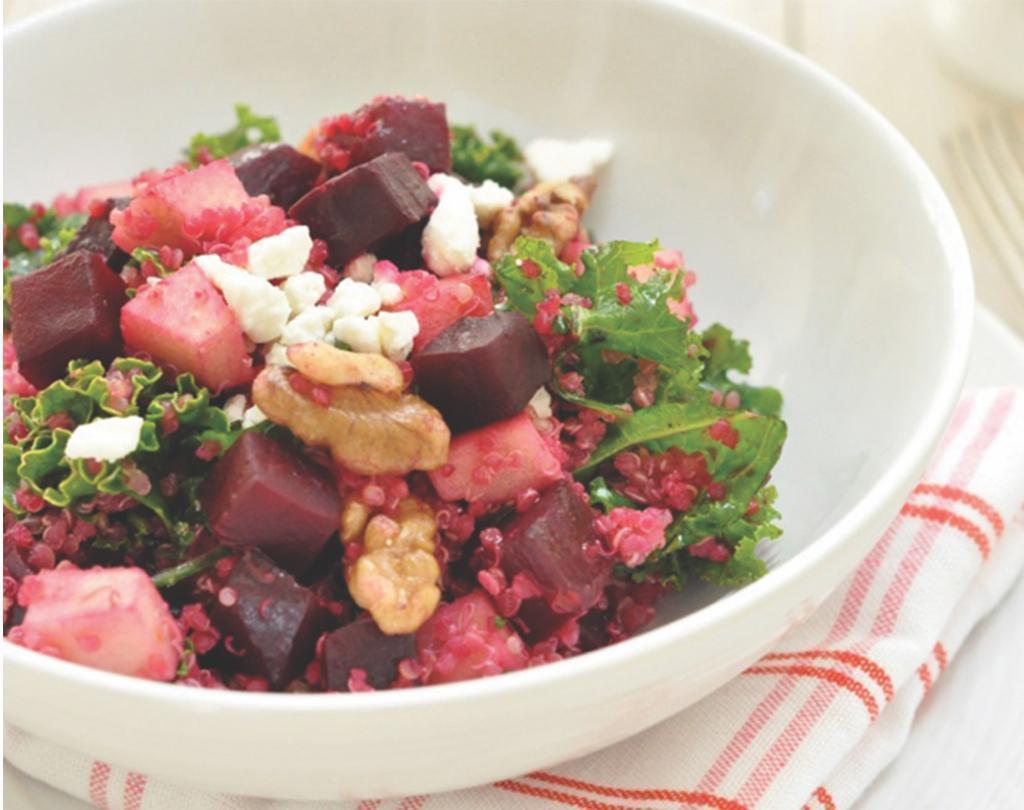 April's Recipe
These recipes are from a favorite book I found, Fix-It and Enjoy-It! Healthy Cookbook. Written by Phyllis Pellman Good, she's turned to the Mayo Clinic for some nutritional guidance. It's always nice to know if you're eating healthy! And these dishes address healthy eating and taste appeal. I threw in the beet dish because I love beets, and this one is so easy to prepare. Using canned beets really simplifies the prep work. Check it out…. check out all these dishes. They're not only heart healthy, but they're yummy too!
Herb Marinated Steak
¼ C. chopped onion
2 Tbsp. fresh parsley
2 Tbsp. balsamic vinegar
1 Tbsp. olive oil
1 Tbsp. grainy Dijon mustard
1 Tbsp. minced garlic
1 lb. London broil
Combine onion, parsley, vinegar, oil, mustard, and garlic in a bowl.
Place London broil in a sturdy plastic bag. Add onion mixture, spreading it on both sides of the meat. Close bag securely. Marinate overnight in refrigerator, or at least 6-8 hours. Turn bag over at least once.
Pour off marinade. Place steak on broiler pan about 5″ from heat. Broil about 6-8 minutes on each side for rare meat, 9 minutes on each side for medium. Allow meat to stand about 10 minutes when finished cooling.
Carve diagonally against the grain.
Braised Beef w/Cranberries
2 lbs. sliced, well-trimmed top round beef
½ tsp. red pepper
1 Tbsp. olive oil
½ C. peeled and diced turnip
1 medium onion, chopped
1 green bell, sweet pepper, chopped
1 medium carrot, chopped
1 rib celery, cut fine
1 Tbsp. garlic powder
1 C. apple juice
1 C. fresh or frozen (thawed) cranberries
1 Tbsp. cooking sherry
1 sprig parsley
1 bay leaf
Preheat oven to 350°F.
Rub beef with red pepper. Set aside.
Heat oil in heavy skillet until hot. Stir in next 6 ingredients. Saute over medium heat until softened. Put half of mixture in baking dish. Lay beef over vegetable mixture. Spread the remaining mixture on top of beef. Add apple juice, cranberries, sherry, parsley and bay leaf. Cover and bake for 45 minutes.
Turn over beef, cover and bake an additional 45-75 minutes, until beef is tender.
Chicken Rice Bake
2lbs. boneless, skinless, chicken breasts,
cut into bite-size pieces
3½ C. chicken broth
1½ C. uncooked rice
1 C. chopped celery
1 C. chopped carrots
1 C. finely diced onions
2 C. sliced fresh mushrooms
salt & pepper to taste
1 tsp. fresh dill weed
1 Tbsp. minced garlic
Spray 2-quart baking dish with nonstick cooking spray.
Combine all ingredients in large mixing bowl. Spoon into baking dish. Bake at 350°F for 1½ hours. Let stand for 10 minutes before serving. E-Z-P-Z!
BEET WALNUT SALAD
3 C. canned beets, drained
¼ C. red wine vinegar
¼ C. chopped apple
¼ C. chopped celery
3 Tbsp. balsamic vinegar
1 Tbsp. olive oil
1 Tbsp. water
8 C. fresh salad greens
3 Tbsp. chopped walnuts
¼  C. Gorgonzola cheese, crumbled
Place drained beets in a bowl. Toss with red wine vinegar. Add apples and celery. Toss.
In a large bowl, combine balsamic vinegar, olive oil and water. Add salad greens and toss.
Put greens on individual plates. Top with beet mixture. Sprinkle with pepper, walnuts and cheese when ready to serve.