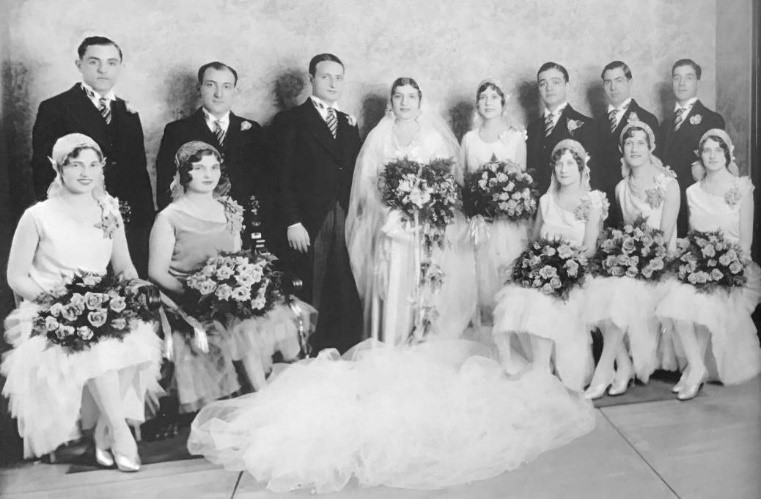 They Made My Father an Offer He Had to Refuse
What would my life be today if my father made a different decision in 1938?
That crazy thought popped into my head after seeing the new Martin Scorsese film, "The Irishman," based on the non-fiction book, "I Heard You Paint Houses," which is Mafiaspeak for "I heard you make people go away" — permanently.
Frank Sheeran, the story's title character, gets involved with Mafia kingpin Russell Bufalino, who reigned as the most powerful underworld boss in the country while living quietly and operating entirely under the FBI's radar. The movie's story is how Sheeran made Teamsters union leader Jimmy Hoffa disappear, a hit ordered by Bufalino that became one of the United States' most enduring unsolved mysteries.
Bufalino was the quiet Don. Soft spoken and reflective, he avoided ostentation. His house in northeastern Pennsylvania was modest. In a movie peopled with Hollywood elites such as De Niro, Pacino and Romano, actor Joe Pesci steals the show by perfectly capturing the soft-spoken Mafia boss. Bufalino was short, barely 5-feet-8-inches tall and less than 140 pounds, but undeniably in charge.
The actress who portrays his wife, Caroline, is too tall, too brash, and too flashy. The real-life Carrie Bufalino was tiny, delicate and exuded class. I know these things because when I was a child, I was a guest in their home. As an adult, I attended the wedding that is the centerpiece of the movie.
I didn't know my parents when they were young, and there were no smartphones to capture their day-to-day minutiae. Instead, my parents' youth is recorded in a few black-and-white snapshots or sepia-toned formal studio photographs.
Their wedding photo shows a lavish event taking place a month after the stock market crash in 1929. My maternal grandfather was a saloonkeeper, with a thriving business impervious to market fluctuations and Prohibition.
My mother's wedding dress has a long, billowing train that fills most of the lower part of the wedding picture. On her left is the diminutive Carrie Bufalino, Mom's matron of honor; to my father's right is his best man, Russell Bufalino. I have no record of my parents playing similar roles at the Bufalinos' 1928 wedding, but it is reasonable to assume they would have been attendees, if not attendants.
Much of "The Irishman" depicts the Bufalinos and Sheerans motoring to Detroit for the wedding of a family member to the son of a prominent Detroit Mafia family. I was living about 60 miles northwest of that city when my father called to say it would be no problem getting me into the wedding reception at the Book Cadillac Hotel to visit with him. The movie shows the church ceremony, but not the reception. It was an indoor version of the wedding scene in "The Godfather," with a sit-down dinner for more than 500 guests. There were two orchestras playing, and crooner Jerry Vale serenaded everyone.
Russell Bufalino remembered me from our visit to his home when I was a child. He was extremely gracious and cordial, and inquired about my family and my job. He laughed as he recalled seeing my grandfather, still wearing a tuxedo, washing out milk cans used to carry the booze from Canada that was served at my parents' wedding.
Throughout the 1920s, Russell Bufalino worked for the powerful Western New York Mafia Don, Stefano "The Undertaker" Magaddino. His rising stature within the family drew Magaddino's respect. It was strongly believed Buffalino was Maggaddino's hit man.
In 1938, Bufalino and Carrie moved to Pennsylvania. For purposes of legitimacy, he was employed as an auto mechanic, but his real work focused on union racketeering and the garment industry. At that time, my father worked in a factory that produced shock absorbers and other auto parts. Hazy family history sketched out by conversations with my older brother indicates that Bufalino asked my father to join him in Pennsylvania, but my mother, well aware of his Mafia involvement, threatened to leave my father if he did. He didn't go.
It was in 1949 that Russell and Carrie Bufalino became my youngest brother's godparents, so obviously my family and theirs stayed in touch, perhaps visiting more times than I remember. The most certain evidence I have of their continued friendship was my father often referring to Bufalino as "McGee," a moniker the book "I Heard You Paint Houses," clearly specifies was used only by Russell's closest associates.
"The Irishman" is a mirror of the past for me, making me think of how dramatically different my life would have been had my father decided to move to Pennsylvania to work for Bufalino. It was McGee who organized the November 1957 gathering in Apalachin, N.Y., attended by the heads of all the crime families, to help his friend Vito Genovese make peace following the murder of Albert Anastasia and the shooting of Frank Costello. The FBI raided the meeting, leading to the 1963 Senate investigations into organized crime. If my father had been there, how different would my life have been? That question has always been in the back of my mind. "The Irishman" brought it to the forefront. The answer would make a good movie.
I'm waiting for Scorsese's call.