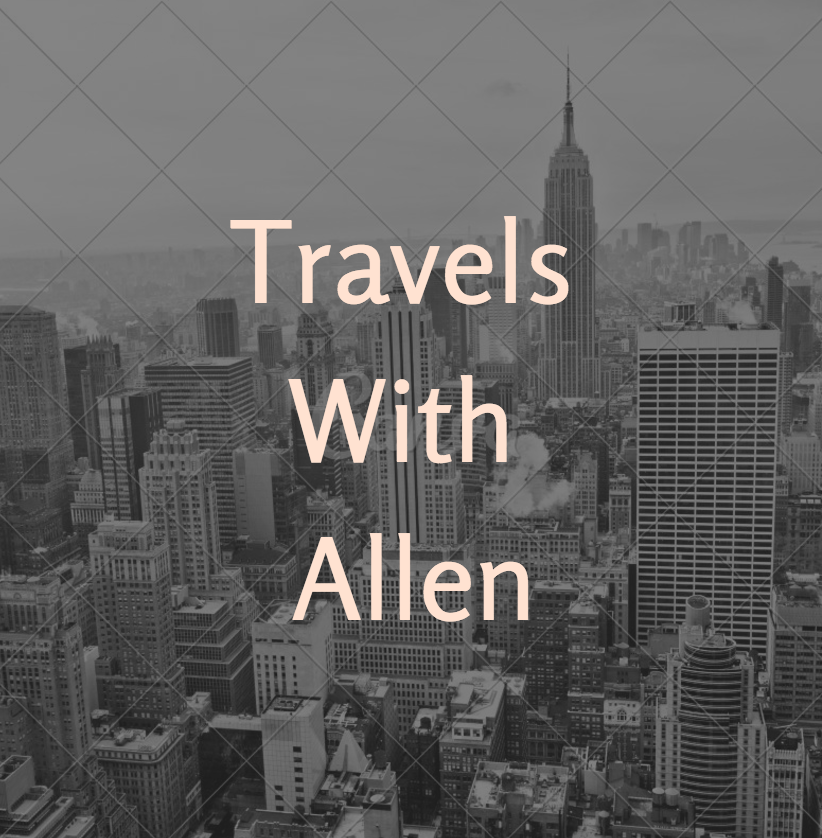 More Travels with Allen
By Allen Herman
Linda and I were out to dinner one evening when a woman walked up and thanked us for introducing her to her "savior." We were surprised, startled and somewhat confused. We have been blamed and credited for all types of things, but this was a new one.
Her "savior?"
Turns out she was referring to New York Camera. This woman, Claire, had been able to save all of her treasured pictures and old film at New York Camera for restoration. Evidently they did a marvelous job. She was so happy. Now all of her memories have been preserved for all of the future generations of her family to enjoy. Frank, the owner of this family business, New York Camera, is her "savior." Perhaps you need a "savior." Frank's the guy.
Speaking of saviors, Jennifer at Rococo did it again. Linda and I were invited to a beautiful formal wedding that was held in northern New Jersey. Once again "old Al" procrastinated and discovered, at the last moment, that his old tux did not fully cover his new body. As our trusty little editor was contemplating various ways of murdering your trusty publisher, I called Rococo in the Redwood Shopping Center on Second Street Pike and avoided an unexpectedly short life. Once again it was Jen to the rescue.
If you need a tux, not at the last moment, please, head over to Rococo. Richie Toll, a high school and college classmate of mine, has beautiful clothing, as well as tuxes, and his prices are very realistic. He's got some really beautiful European clothing you rarely see in the big box stores. He carries stylish quality clothing from all over the continent.
What I find most interesting is that he has always has clothing to fit me. When, during the Stone Age, I was twenty pounds lighter, and when I was some sixty pounds heavier he had me covered. So,even if you are a weight YoYo he can assist you. Oh, one last thing, they do all their alterations in-house at no extra cost.
I stopped in to Robin Hood Restaurant on Second Street Pike for lunch last week. The place was PACKED. There was just one empty seat and that was at the counter. When I looked at the selection, the prices and received my meal, there was no question as to why they were jammed. The word is out. It's great! I really can't recommend this bistro more highly. It's not "Fine Dining," but it's great dining. I took half of my sandwich back to the office for my wife.
This is the third time I have written about U'Panzerott on Easton Road in Horsham. Their selections are unique, the portions substantial and the prices reasonable. The problem is every time I have written about the spot they have been forced to close. They had a family emergency, a trip back to Italy to attend to their vineyard and once back to the "boot" because of passport renewal issues. Even so, between calls asking us why they were closed, we have had more people call and rave about this restaurant than we usually receive. Trust me, hopefully they will be open and you will get a chance to meet a wonderful family that serves some wonderful meals in very attractive surroundings. I would suggest you call first, not for a reservation, but to make sure they're open.
Once again I want to mention the Insurance Shop on Bustleton Avenue. Last week when I went to check on Linda's insurance I met two couples leaving who were readers of our little Pulitzer and they were really thrilled by the savings they discovered. I guess what pleased me most was that Ron, the owner, told me he had seventeen new accounts (I didn't say visitors) during the month as a result of my mention. Thank you. You saved money and you really made me feel good.
Just a short note about the Persian Grill on York Road in Hatboro. I guess you know that it is one of our favorite restaurants. When we stopped in last week we learned that the owner, a very young man, had a stroke and that his wife and crew are busting their butts to maintain their fine food and service while he recovers. I had serious health issues two years ago and our advertisers did everything they could to help Linda during a very difficult, stressful time. Firms like the Gold Guys, MKBD, Schultz Wall Covering and Design and C & C Roofing actually took it upon themselves to get additional advertisers for Linda. It made us feel as though many of them were more like family than customers. If the opportunity arises, I urge you to hit the Persian Grill for lunch or dinner. You will be doing, as they say in my tribe, a mitzvah. That's a good deed!
My son just leased his second auto from O'Neil GMC on Street Road in Warminster. I plan on doing the same in the near future when my current lease is over. We have discovered a wonderful gentleman, Ben, who handles leasing, etc.. He has been extremely helpful … no pressure, no tricky words and a genuine interest in helping his customers. We have learned that O'Neil's service is excellent and the prices are unbeatable. If you are in the market for a new or used car I suggest you contact Ben before you make any final decisions.
The Richboro Coffee Shop in Mallard Creek Village on Almshouse, is a neat little stop. If you want to meet some friends for a cup of coffee and some "chit chat" this may be the place. The little shop is warm and quiet. You actually can have conversations there without bursting your vocal chords. They have coffee brewing activities and just received a well earned "thumbs up" from another newspaper, the Herald. It really is an unusually charming spot you rarely find in the totally commercial suburbs.
I have just returned from Ivyland Hearth & Outdoor. They are in the midst of cleaning house and making room for a firm that is about to lease some of their space. The assortment of "goodies" from as early as the fifties is fantastic. If you are a picker, this is Valhalla. Put on some old jeans and head on over.
I found a gorgeous wrought iron children's table, two chairs and a bench set that cost me just over one hundred bucks. Their collection of fireplaces, outdoor furniture and indoor furniture plus, just about anything else you can think of is incredible. I even found a one hundred pound ornate metal five foot high bird feeder from the thirties. The place is fun. Go enjoy!
Looking for a fun night out with the whole family? Tony Luke's in Warminster, on York Road, is having a Cruise Night, October 28. There'll be pumpkin painting, a costume contest and of course, lots of great food to enjoy while you're having fun. Linda likes their broccoli rabe sandwich. I'm a purist and go for the cheesesteak. Either way, you're sure to have a deliciously good time at Tony Luke's Cruise Night.
So, that's about it for this month. I've already started "travelling" for next month. P.S. Don't be surprised if there's a lot of water involved in November's "Travels." You'll get it when you read it!!! For now, happy reading and happy October. Looks like Fall has finally arrived!