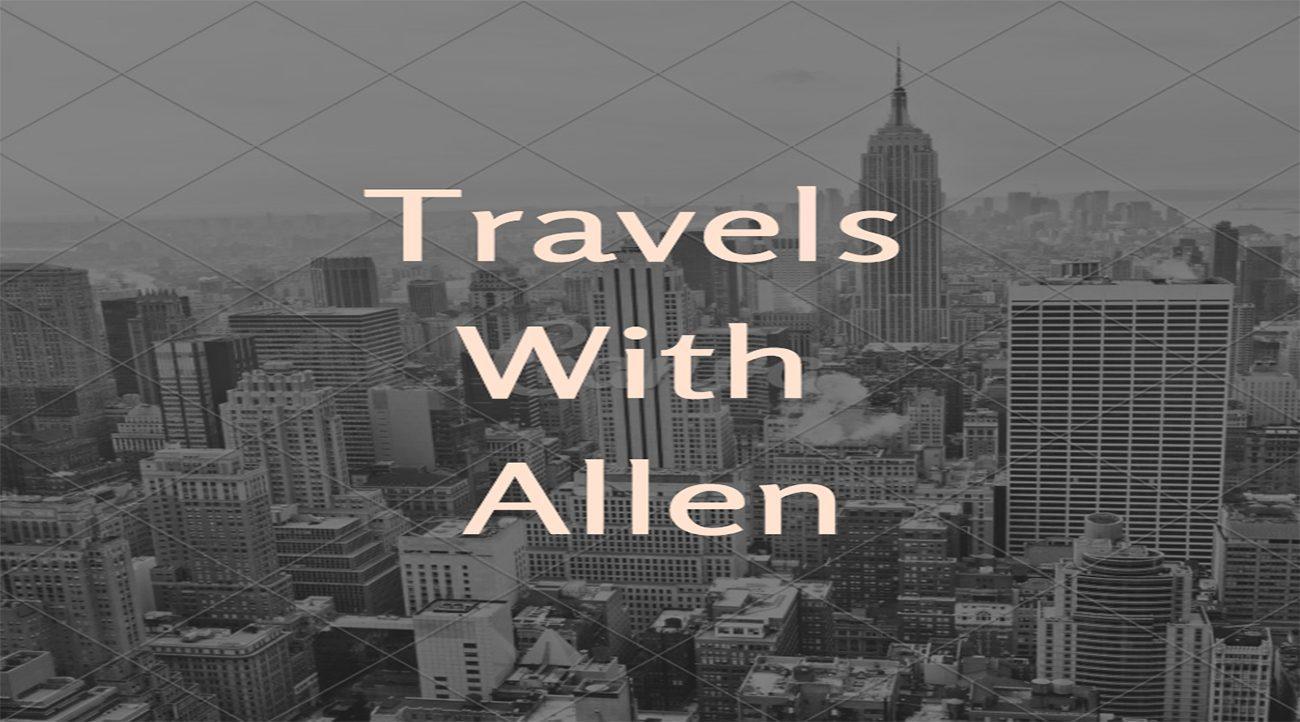 More Travels With Allen
By Allen Herman
Recently Linda and I flew to Seattle to visit our kids and grandchildren. We took a "cheapie" late night flight on Southwest Airlines. (We love this airline … and once again they didn't disappoint.) We arrived very late in the evening and were beat. Air travel is not what it once was, so we checked into our hotel and quickly hit the "sack."
In the morning, we were met by our son, daughter and two grandchildren for breakfast. While I do not consider myself a very price conscious person, I was stunned by the prices on the menu. Breakfast for the eight of us came to over two hundred and twenty bucks. Talk about killing your appetite.
Scrambled eggs with nothing more than an English muffin and a cup of coffee cost some eighteen dollars. This price didn't include two local and hotel taxes plus the obligatory twenty percent tip. Grapefruit juice was a mere four dollars per glass and a single cup of coffee hit the scales at three dollars and fifty cents … plus, plus, plus. I was truly stunned.
When we left the hotel's restaurant I mentioned to my son that I would starve before I would go back to this outrageously overpriced bistro for breakfast a second time. I made it clear that we were going, regardless of who picked up the tab, to a "Sloppy Joes" the following morning where the seats are covered in leatherette, the counter stools still spin, the waitresses still chew ten pounds of gum and the cooks wear long dirty aprons. I yearned for my own familiar, affordable environment. Eric, my son, just laughed.
The very next morning we found a very picturesque "Sloppy Joes" for breakfast. This time two additional grandchildren and a daughter-in-law joined the group. Our bill came to almost three hundred bucks for a regular group of meals. I couldn't believe it. This little hole in the wall had prices that matched the hotel!
When we were driving towards the Boeing Museum (great place), I casually mentioned in a joking manner that I was glad my two older children were practicing some form of birth control. Feeding two or three more kids would have put them in the Bankruptcy Courts. Again, my son just laughed and suggested I accept these prices because it was Seattle.
What he meant was that Seattle now has a minimum wage of thirteen dollars an hour. It is scheduled to hit fifteen bucks an hour in the very near future. As a result, the price of just about any item you can think of is now higher than the Space Needle.
The following evening Eric and I went out for a cup of coffee. By coincidence the owner of a nearby Honda Agency was in the restaurant. He was thrilled to see Eric. Several years ago, when Eric was in charge of a team at Tacoma General Hospital Emergency Room he had saved this man's son's life. The boy had been hit by a car (clobbered is a better word) and was "past" death's doorstep when he was rushed to the hospital. In a twelve hour "touch and go" series of operations my son and his competent team were able to save the child's life. Obviously the man would never forget Eric or the staff at Tacoma General. In fact, he had wanted to present Eric with a new Honda which was politely refused.
He sat down at our table and we just had a great time together. Even our politics were in sync! We really hit it off. But when he suggested I come back more frequently I told him I could afford airfare but not breakfast. The Seattle prices were in orbit.
Now the owner of the restaurant, hearing our conversation, joined our table. He told us that he was closing his little eatery in three months when his lease expired and re-opening one mile away in Bellingham. The new laws relating to minimum wages in Seattle were killing him. He could not afford to pay his staff of four in the kitchen six hundred dollars a week plus benefits for each employee. Even the food servers – can't say waitresses anymore – who live on tips, were covered by the law. As a result, he had been forced to raise his prices by fifty eight percent and his business, because of these price increases, was off by almost sixty percent! He looked around the nearly empty restaurant and shrugged his shoulders. To hell with Seattle, he was moving.
The auto dealer just confirmed what was being said. He had been forced not only to raise the minimum wages of certain of his employees, but forced to raise the wages of other workers who were already at higher rates than the new minimum. The additional costs to his customers was like a red flag. They were enraged. The new law was making doing business very unpleasant.
Eric made it clear that the hospitals in the area are facing the same problems.
Costs across the board are skyrocketing. Firms are cutting back on labor, some are moving, others closing and all are looking for ways to curb costs. According to a very recent editorial in the Wall Street Journal it is even worse in San Diego. Even McDonalds and Burger King in Seattle are forcing patrons, in an effort to curb costs, to order at automated kiosks. Retailers are reducing staff and forcing sales people to do some "janitorial work." Still others are restricting their hours while many others are offering less service.
Flying back from Seattle I sat in the darkened airliner thinking about my visit. I was thrilled to have seen everybody and even more thrilled to see all are in good health and appear to be in good spirits. Ultimately, I tried to turn my attention to my usual Travel's With Allen article and talk about a really great dog groomer, Furry Tails in Huntingdon Valley and Don Giovanni's opening-soon new morning pick-up-and-go spot adjacent to its iconic bakery. I kept returning to the minimum wage issue, especially as I witnessed it in Seattle.
I believe wages will follow economic reality, not social goodness. Perhaps there are those who need to look for new and better jobs instead of just demanding better pay. Perhaps government should subsidize this transition. We need more construction workers, more riveters and nurses, not more hamburger flippers. It is painfully clear from all economic reports coming out that what is slowing the economy today is a lack of capable help. And… capable help demand and receive higher wages.
I have so many local people I want to mention but it just isn't happening this month. Check back here in July's issue when my travels will take me through the neighborhood. And remember, if you miss your July copy at home, as is our summer tradition, you'll be able to pick up a copy down at the South Jersey shore. See you then, at home or away….. Summer has arrived!