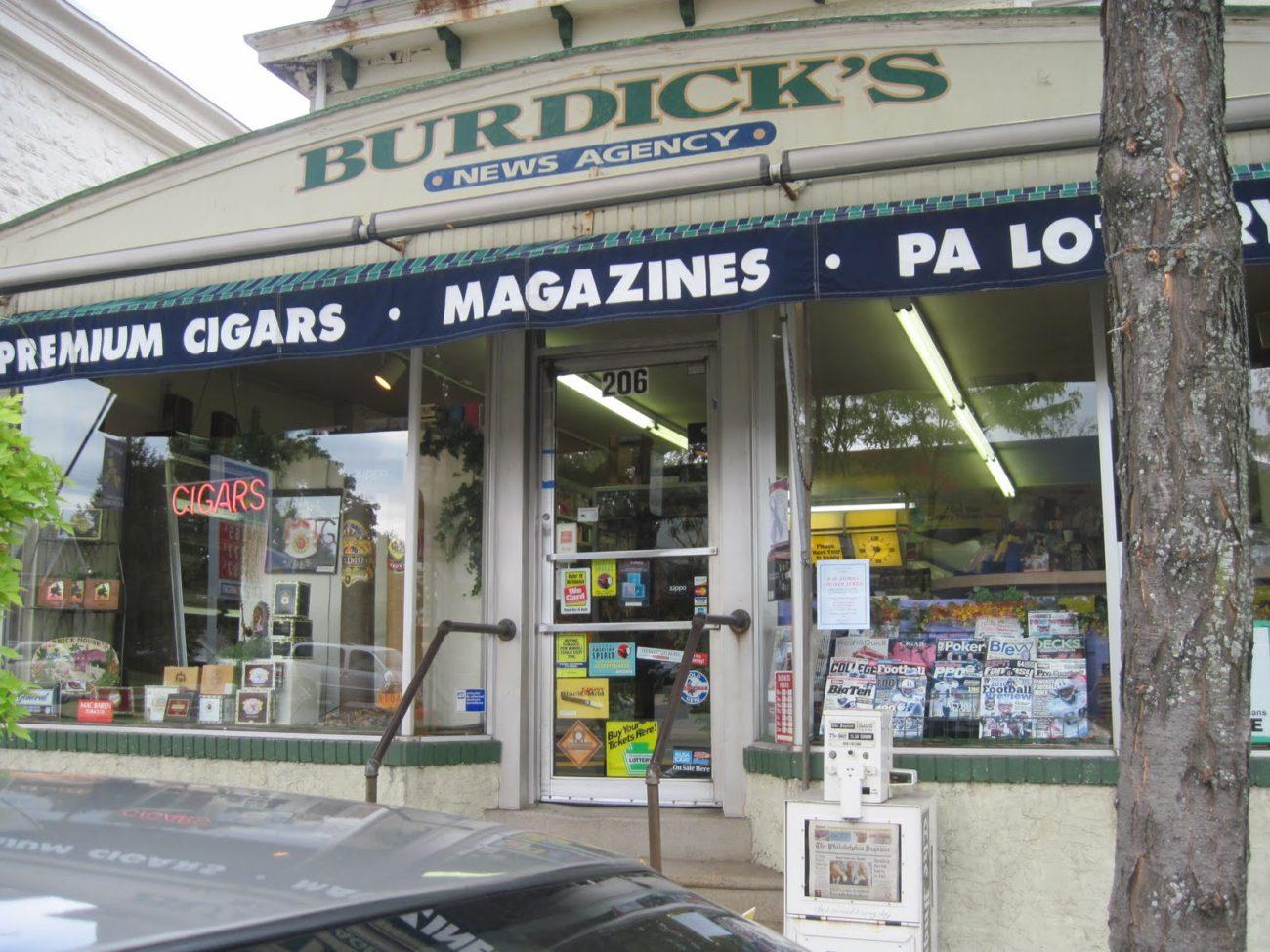 Burdick's Hatboro News Agency
Located at York and Byberry Roads in Hatboro, opposite a Sunoco station, you will find Burdick's Hatboro News Agency. This charming little store is a real honest-to-goodness 1940's candy store. You read that right … an old fashion stereotypical candy store. I was five years old again.
The store has a real soda fountain with spinning stools and soda levers, a milkshake maker and a container of water to hold ice cream scoops. The entire front of the store is one big combination of cigar humidors and magazine racks. They even carry comic books and plastic airplane models. Oh yes, if you're a pipe smoker, you'll be in heaven.
The rear of the store contains every type of candy
box I can remember. They also have all types of over-the-counter medicines and a rafter of other items I recall fondly.
The place is as close to Main Street in Disney World as you can get without an airplane ticket. A visit to this little step back in time won't change your life, but if you have some free time or want a newspaper from some exotic destination, this is the place. Grab your kids or grandchildren and head into the time machine.
I promise you it will be fun and cost very little.
Recently my wife and I had dinner with friends of ours at Tre Fratelli in the Summit Square Shopping Center in Langhorne. To be honest I was surprised when they told us where to meet them. I have visited this restaurant several times in the hopes of getting them to advertise in our new Yardley edition. I always thought they were a pizza place… and nothing more.
How surprised I was when we entered and passed the ovens when I realized behind the "kitchen front" was a really great restaurant. The dining area is divided into several separate sections that I never knew about. The food was really great and it's a BYOB. Linda and I had a fabulous time. (Of course, we loved being with our friends!)The service was accommodating and pleasant. I cannot say enough good things about this restaurant. And now that I know what it is … I'm going to visit the advertising person again. I don't give up easily!
Also, in Yardley and Lower Moreland are two relatively new take out seafood stores by the name of Capt'n Chucky's Crab Cake Co. Both are owned by different people but they share a great deal in common. Both owners are nice guys (one has a wife working with him and the other has his daughter assisting him) who are committed to giving their customers the best at very reasonable prices. Their selection of fish and prepared meals is huge. (In the Yardley store I saw shrimp the size I have NEVER seen. They must have come from Jurassic Park.) Both also carry interesting soups and several different desserts. One thing that I found very funny was that in the Huntingdon Valley store a series of sealed containers of Kosher Products sit front and center next to containers of crabmeat and lobster tails. Only in America!
I don't have space to mention all of the restaurants I would like to recommend but I would be remiss if I didn't mention La Cena in Bensalem and Pierro's on Byberry Road in Lower Moreland. Both are really top notch restaurants that do everything right. Both have great catering facilities and should be on your "check'm out" list if you are planning any special affair. We hosted a group of our readers at La Cena last year and they did a very impressive job. Some of our guests have called to find out if we were going to do it again.
DeLuca Music Store in Hatboro is now accepting students for music lessons. They are good at their job. My friend, whose son is known as "Ten-Thumbs Smith," is now playing recognizable music on his clarinet. They do more than work with kids, they perform miracles!
Someone's getting ready for warm weather!! Better Homes, Hearth and Patio in Ivyland and Fairless Hills has just finished redoing their stores with all kinds of magnificent outdoor furniture. Their products are really top notch. Recently our son moved into a new home with a great deal of ground. We found a very lovely and very large outdoor table and chair set that all have noticed immediately. It's the perfect size for any gathering, large or small.
And if you're looking to save a buck or more on a fireplace, now might be a good time to see Pete. He wants to clear out everything possible to make room for even more patio furniture.
Did you know prom season is almost upon us? Party Girls in Newtown is a go-to spot for the dress your daughter is clamoring for… The ladies there will take good care of her and help you negotiate what is appropriate and "in" for the best-dressed prom queen. Their specialty is the special occasion and their assistance will surely make it that, SPECIAL!!
Have you checked out Lauterio and Friends in the Marketplace at Huntingdon Valley on County Line Road? They've got some big-time sales going on, hoping to make room for new merchandise. Jean's Antiques & Gifts might have the perfect graduation present you're anticipating. And everything is reduced! There's a darling kids store, Dress Me Up that's running a sale as is JJ's Chic Boutique. Take a drive over and check out this gathering of fun and funky shops… all under one roof. Makes shopping easy and convenient.
Next month, I promise I will write about my visit to a store that advertises "purchase one item and get four hundred and sixty extra free." Also I want to write about a very enlightening visit I had with the owner of C&C Roofing. I also will reveal where you can purchase real… not fake … Rolex watches and jewelry on the "cheap." And I do mean cheap.
Until then, enjoy the balance of winter. Get your spring clothing out but keep the snow shovel nearby. Thank the Lord above that you don't live in Boston.