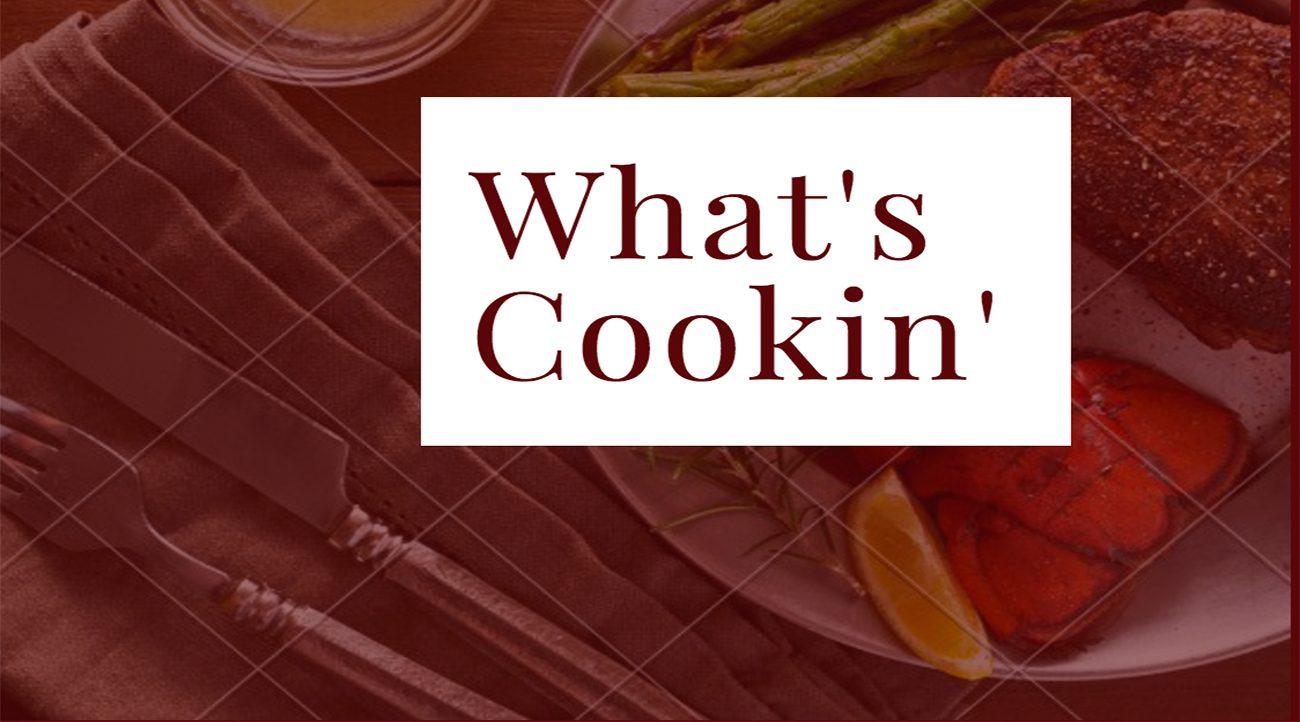 What's Cookin'
Spring is here! Yup! And we need snacks, easy to prepare food in between baseball games, etc. And we want light food that won't weigh us down. We've got that "stuff" this month. I'm a "nut" fan so we offer two delicious, almost addictive, nut snacks. Get creative and make some adjustments to your own taste. Either way, they'll be great additions to those picnics you'll be having. The salads will be good, too…. Maybe you'll add some chicken or fish and Bam!! You'll have a meal. It's time to lighten up. Enjoy!
ARUGULA PESTO
1 12-oz. box rotini pasta
1½ C. arugula
1½ C. fresh basil
½ C. extra-virgin olive oil
¼ C. water
½ C. lemon juice
½ C. Pecorino cheese
3 C. halved cherry tomatoes
12 oz. diced fresh Mozzarella
Prepare rotini according to directions, drain and cool. Combine arugula, basil, olive oil and lemon juice in food processor or blender. Puree until smooth. Stir in Pecorino cheese. Toss with pasta.
Add cherry tomato halves to pasta. Toss with diced Mozzarella and season to taste. P.S. Can use store-bought, already prepared pesto instead of making it from scratch. Real easy when time is short!
MEDITERRANEAN FRIED RICE
1 lemon
2 Tbsp. olive oil
1 lb. lean ground beef or lamb
2 Tbsp. chopped garlic
4 C. long-grain rice
1 tsp. ground cumin
1 pint cherry tomatoes, halved
½ seedless cucumber, cut into pieces
2 scallions, minced
¼ C. mint, roughly chopped
Crumbled Feta cheese
Finely grate zest of lemon, then cut lemon in half. Heat 1 Tbsp. oli in large nonstick skillet over medium-high heat. Add the beef and cook, breaking it up until cooked through. Drain fat.
Add garlic and salt and pepper to taste. Cook another minute, adding lemon zest. Transfer mixture to a bowl and squeeze juice of lemon half into bowl.
In a clean skillet, heat remaining oil. Add cooked rice and season with cumin and salt and pepper. Cook until edges of rice begin to brown. Fold in beef mixture and remove from heat.
Squeeze remaining lemon half into a bowl. Toss the juice with tomatoes, cucumber, scallions and salt and pepper. Fold in the mint and serve over rice. Can be served with Feta cheese on top.
SNACK MIX
4 C. chow mein noodles
1/3 C. pepitas
2 tsp. olive oil
½ tsp. cinnamon
1/8 tsp. cayenne
½ C. dried cranberries
½ C. white chocolate chips
½ C. shelled roasted pistachios
Heat oven to 400°F. In a big bowl, toss chow mein noodles, pepitas and olive oil, ground cinnamon and cayenne. Spread mixture in a single layer on a prepared baking sheet and bake until lightly toasted, about 7 minutes. Transfer to a large bowl and cook. Once cool, toss with dried cranberries, white chocolate chips and pistachios. (Try adding any other "goodies" your heart desires!)
MORE NUTS FOR SNACKING!
¼ C. lime juice
2 Tbsp. chili powder
1 tsp. salt
¼ tsp. cayenne
4 C. cashews
Preheat oven to 325°F. In a bowl, combine lime juice, chili powder, salt and cayenne. Stir in cashews. Spread mixture on a prepared baking dish. Bake about 20 minutes.