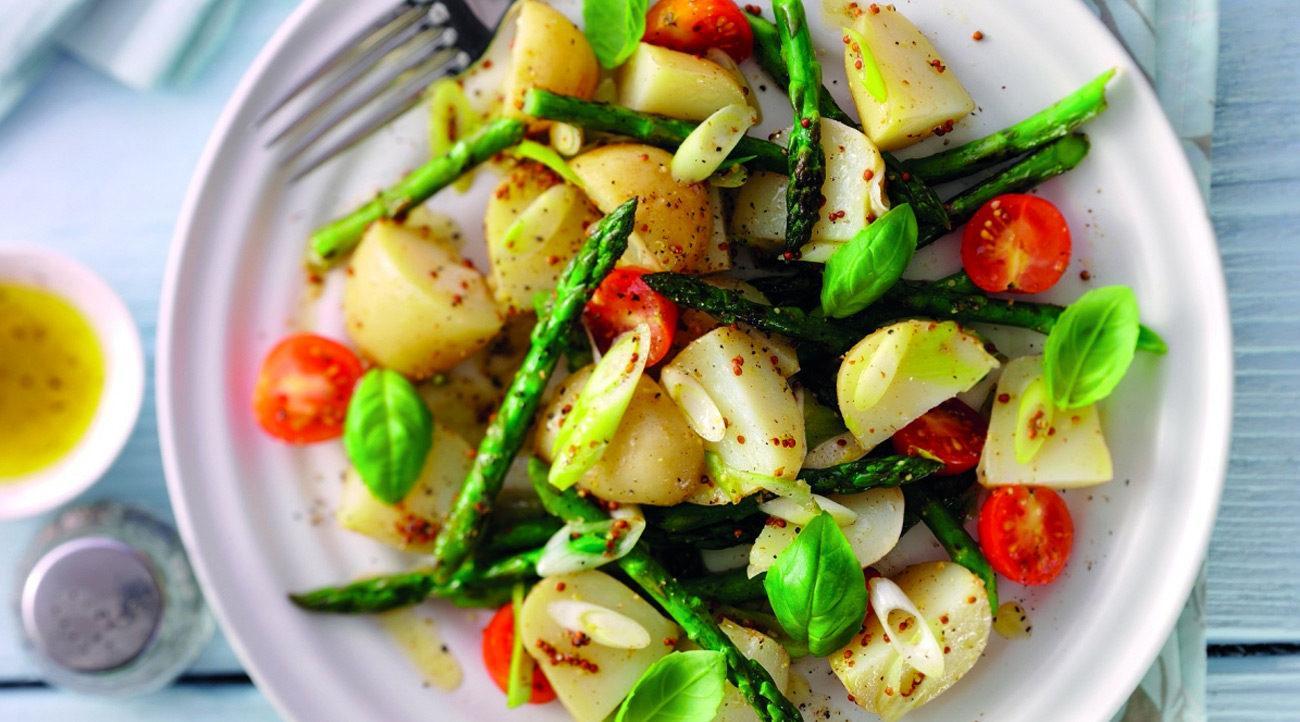 Salads Galore!
Looking for a new "place" for those delicious Jersey tomatoes you can buy now? How 'bout something yummy using the season's best fruits like mango, papaya and raspberries? Look no further. This month we offer some great recipes to add some "spice" to your summer table. (Yup! Some of these dishes are a little spicy. And you can make them even spicier!!!)
So start picking those veggies and those fruits, AND those outstanding Jersey tomatoes. They're summer's special gift that shouldn't go unappreciated. Happy cooking and enjoy!
Marinated Vegetable Salad
5 C. broccoli florets
2 cucumbers, peeled & sliced
1 onion, thinly sliced
1 green bell pepper, thinly sliced
1 red bell pepper, thinly sliced
1 6-oz. can sliced black olives, drained
1/2 C. Parmesan cheese
1 tsp. minced fresh parsley
1 8-oz. bottle Italian dressing
1 12-on basket cherry tomatoes
Combine all ingredients. Cover and refrigerate overnight, stirring occasionally. When ready to serve, season to taste.
P.S. You might not need an entire bottle of dressing. Start with less first. Use your discretion.
Jersey Tomato & Potato Salad
1 1/2 lbs. red potatoes
1/4 C. plus 2 tsp. olive oil
1 medium onion, chopped
1 Tbsp. chopped garlic
2 large tomatoes, diced
5 tsp. red wine vinegar
1 Tbsp. minced fresh basil (This is the secret!)
1/4 tsp. oregano
Cook potatoes until just tender. Drain and cool. Cut potatoes into small pieces and place in large bowl.
Heat 2 Tbsp. oil in skillet. Add onion and sauté' until translucent. Add garlic and cook 1 minute longer. Add onion mixture to potatoes. Add remaining 1/4 C. oil, tomatoes, vinegar, basil and oregano. Toss gently to combine. Season to taste.
Black Bean and Rice Salad
2 14 1/2-oz. cans chicken broth
(can use equal amount of vegetarian boullion)
1/2 C. water
1 1-lb pkg. long-grain rice
2 15-oz. cans black beans, drained & rinsed
2 red bell peppers, diced
1 green bell pepper, diced
1 medium red onion, diced
1 medium bunch cilantro, chopped
1/2 C. olive oil
3 Tbsp. orange juice
2 Tbsp. red wine vinegar
2 tsp. ground cumin
1 tsp. chili powder
Bring chicken broth and water to boil. Add rice. Bring to boil. Reduce heat to low, cover and cook until liquid is absorbed, about 20 minutes. (You can use quick cooking/instant rice also. Just follow directions on box for preparation and eliminate chicken broth, 1/2 C. water and long grain rice.)
Transfer rice to large bowl and fluff with fork. Mix in black beans, bell peppers, red onion, chopped cilantro, oil, orange juice, vinegar, cumin and chili powder. Season to taste with salt and pepper.
Serve warm-ish or refrigerate. Should be room temperature.
Tropical Chicken Salad
4 boneless chicken breasts
1/4 C. olive oil
3 Tbsp. red wine vinegar
1 tsp. grainy Dijon mustard
6 C. salad greens
1 papaya, peeled, seeded, chopped
1 mango, peeled, pitted, chopped
1 6-oz. raspberries
1/2 C. chopped toasted walnuts
Preheat oven 475°F. Place chicken in baking pan and season. Bake until cooked through about 20-25 minutes. Cool. Cut into bite-size pieces.
Whisk olive oil, vinegar and mustard, Combine chicken, salad greens, papaya, mango and raspberries in large bowl. Add dressing and toss well. When serving, sprinkle with toasted walnuts.
Chicken with Balsamic Vinegar
2 Tbsp. olive oil
1 C. finely chopped onion
2 Tbsp. chopped garlic
11/4 lbs. boneless, skinless chicken breasts cut into 1-inch pieces
2 Tbsp. balsamic vinegar (No balsamic vinegar in the house? Use red wine vinegar.)
1 tsp. grainy Dijon mustard
Heat oil in pan. Add onion and garlic and sauté until just about tender. Add chicken and cook until chicken is brown. Stir in vinegar and mustard. Continue cooking until chicken is tender and cooked through. Season with salt and pepper. (Try serving this with the Black Bean Salad!)