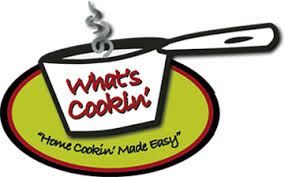 In The Kitchen
Hey, the season of good tomatoes may have almost passed by, but we can still enjoy the final crop of summer's finest. We take advantage of those remnants in this month's recipes. And don't forget the wonderful berries that are still around. The Blueberry Smoothie is yummy anytime of year. Check out our suggestions below. Some might help you out with your early football entertaining. Have fun and enjoy!!
PESTO BOW TIES W/TUNA
12 oz. bow tie pasta
1½ C. packed baby spinach leaves
½ C. grated Parmesan cheese
½ c. chopped walnuts
2 cloves garlic
1/3 C. olive oil
1½ large cans tuna in oil, drained
2 C. red & yellow grape tomatoes, halved
1 C. halved mini Mozzarella balls
Cook pasta according to package. Drain and rinse with cold water.
In food processor, combine spinach, basil, Parmesan, walnuts, and garlic. Process until coarsely chopped. Add oil and process until smooth.
Toss together pasta, tuna, tomatoes, and cheese balls.
Sprinkle with Parmesan cheese if desired. Season to taste. Serve at room temperature.
ORECCHIETTE W/BROCCOLI RABE
12 oz. orecchiette pasta
2 bunches broccoli rabe
¼ C. olive oil
3 Tbsp. chopped garlic
½ tsp. crushed red pepper
8 anchovy fillets, chopped
1 pint cherry tomatoes, halved
Prepare pasta per directions, drain and reserve ½ C. of water.
Wash broccoli rabe and trim off ends. Chop into 2-inch lengths. Leave some water on leaves and stems to help create sauce.
Heat oil in pan until it starts to shimmer. Add garlic, crushed red pepper and anchovies, mashing fillets until they dissolve. Add broccoli rabe in batches until it starts to wilt and is tender, about 6-8 minutes. Add tomatoes and toss until they soften. Add the pasta and toss to coat. Use the reserved liquid if it's too dry. Sprinkle with parmesan cheese if desired.
HORSERADISH CHERRY TOMATOES
12 cherry tomatoes
9 Tbsp. mayonnaise
3 Tbsp. horseradish
With a small sharp knife, core out the center of tomatoes. Combine mayo and horseradish and spoon it into the tomatoes. Top with fresh herbs like chives.
CRUNCHY OIL-CURED TOMATOES
Place tomatoes in pie-dish. Add olive oil to submerge halfway. Let sit for 30 minutes, turning once. Lift from oil, season with salt and pepper, press into homemade toasted breadcrumbs.
SUN-DRIED TOMATO MAYO
In a food processor, blend 1 C. mayonnaise, ¼ C. chopped sun-dried tomatoes and 2 tsp. fresh lemon juice until tomatoes are finely chopped. E-Z P-Z!
HOT HONEY MUSTARD
In a small bowl, whisk 1/3 C. honey, 1/3 C. Dijon mustard, and 1/3 C. vegetable oil. Season with Tabasco sauce to taste. Be careful!!
BLUEBERRY, FIG, AND MANGO SMOOTHIE
1 C. blueberries, frozen
½ C. peeled and sliced mango
3 dried figs
1 heaping Tbsp. plain Greek yogurt
½ C. almond milk
Dump everything in the blender and pulse until thickened. Pour into glass and garnish with a few berries and mint. Yum!