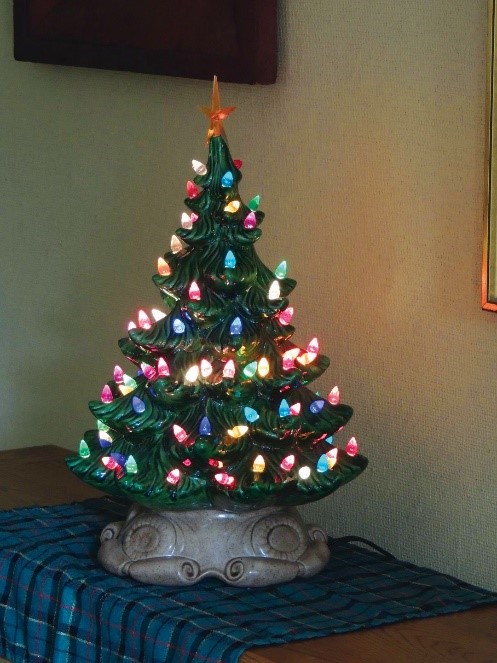 Buying and Trimming a Christmas Tree Requires Some Extraordinary Skills
The wishbone from the turkey isn't dry and Christmas tree lots are sprouting up like … well, like Christmas trees.
When we were kids we didn't buy a tree until Christmas Eve, when we could get a cut-rate price. The best trees had been picked over but we didn't care. If it was still green and brought the outdoor fragrance of pine needles indoors, it was just fine. Besides, our living room was small so my mother didn't want a tree taking up needed space. One year my older brother and I trimmed all the branches off one side of a tree and hung it up so it was flat on the wall. It saved space and left plenty of room underneath for gifts. Another time we made one out of wire and hung it from a ceiling hook. It was our version of an Alexander Calder mobile.
Shopping for a Christmas tree in Buffalo in December meant dressing accordingly, heavy Pea Coats, hats with earflaps, warm woolen mittens, and 4-buckle Arctics. Acquiring our first tree as young marrieds was an extraordinary experience. We were living in Detroit in an attic converted into a small apartment. Much of the space was under the eaves, so we could stand up only in the center of the living room. That certainly restricted the height of the tree we could buy.
I hazarded out late in the afternoon on a very cold Christmas Eve. The grizzled tree lot owner was eager to close up shop and get home. Just breathing the alcohol fumes emanating from his mouth when he said hello could have me blowing a .08 on a Breathalyzer. I picked out a nice tree about six feet tall.
"How much," I asked.
"Ten bucks." This was 1958.
I told him I liked the tree but it was too tall. He said he would cut off any amount I wanted. He sawed off about two feet.
"It's not really worth ten bucks now," I said. He looked at me like he was Cujo and I was trapped in a Ford Pinto. He was not happy. But his eagerness to go home won out over my dubious negotiating methods.
"OK. I'll take five."
I said that was fine and paid him.
"You probably can't do much with the part you cut off. We can use it for trimmings." You could have cut the silence with the saw he was holding.
"Take it and get out of here." I wished him a Merry Christmas. His reply cannot be printed in a family newspaper.
When we moved to California we learned that Christmas tree shopping in Los Angeles was as different as Detroit's Stroh's beer is from a bottle of Sonoma chardonnay. The tree lots featured flocking in shocking colors one would not associate with the traditional Christmas red and green. I wanted to shop where the Stars bought their trees so we found a lot near Rodeo Drive. The trees came in "models" named for movie stars. The Jane Russell was well rounded and full. The Mickey Rooney was too much like the tree I had hacked up in Detroit. We settled on the John Wayne, ramrod straight but with a definite holiday swagger. The tree lot offered concierge service. A tree consultant came to our house to recommend the best viewing spot for the tree. She was a little snobbish, vetoing our choices. When I brought out a box of ornaments she said, "You're not going to hang things on this masterpiece, are you?" I fired her on the spot.
I stopped buying Christmas trees when I moved into a small apartment in Monterey. It wasn't the same without someone to share the trimming, and to laugh about trees from Christmas past. A small ceramic tree was the extent of my Christmas decorating for ten years.
Now I am back to real trees because I have an award winning tree trimmer with me. She plans her tree trimming with military strategy. The placement of each ornament is precise and safeguards the ornament next to it. Often they are repositioned several times before every single decoration is tied to its branch with a red ribbon.
I do not bother to apply my plebian trimming skills to the tree. Too much pleasure is derived watching someone magically change from a serious adult into an excited child experiencing her very first Christmas. Neither tree light nor ornament can match the brightness in her eyes and the color in her cheeks as she goes about her merry task. The fire crackles and carols accompany an artist at work. Among our favorites is a classical Latin version of a Christmas standard: Vidi Mater osculatiopater natalis. My job is to pour the wine, in moderation of course. After all, we do not want to get Tannenbombed and ruin a work of art.
My tiny ceramic tree remains an integral part of our decorations. It may not be a genuine living Evergreen, but the memories it radiates are ever green.
Contact Jerry at jerrygervase@yahoo.com