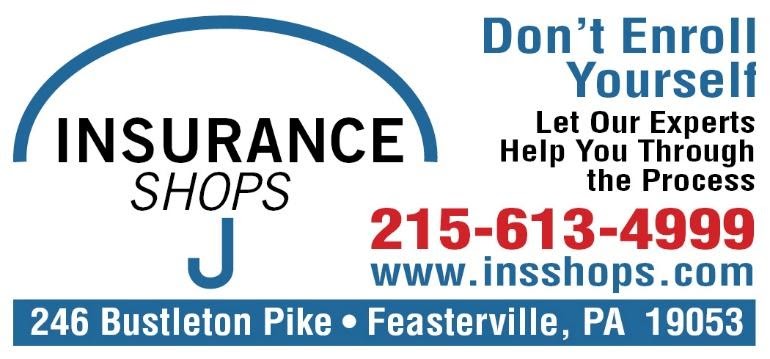 Insurance Shops
Insurance Shops
Insurance Tidbits – Help Is Available
Important Insurance Dates:
• Medicare Open Enrollment starts October 15
• PENNIE Open Enrollment starts November 1
Did you know?
• 50% of consumers do not understand key health insurance concepts.
• 72% of consumers say purchasing or using health insurance is confusing.
• 37% suffer anxiety over affording health insurance.
• 57% avoid seeking medical care because they fear it won't be covered.
Every day our professionals help clients get enrolled or fix their issues created by enrolling themselves.
MEDICARE: Example 1: Yesterday, we had a call from a client who asked if we could help his parents with Medicare. They were paying $230 each per month and we suggested a zero-cost plan that was almost identical, saving them $6000/per year in perpetuity. He was angry at himself for not calling us two years ago to do this as they really could have used the $12K these last two years.
We see cases like this every week! Licensed agents make the Medicare maze easy! Thousands of seniors transitioning into Medicare now understand it because they asked for help. You can also get the best plans at the lowest prices with ongoing service for years to come. Go to a FREE Licensed Enrollment Center that never charges a fee to the client. There will be FREE informational seminars over the next few months at local Bucks restaurants. Don't ever enroll yourself over the phone with a telemarketer.
EMPLOYERS: PEO plans can save most companies 15% or more on their Health expenses. There are NEW Referenced Based Pricing Plans offering savings along with low copays and deductibles. These options are brand new this year and most companies of 2-1000 will benefit by comparing to current coverage. 10 min online quotes now available for General Liability, BOP, Cyber, Workers Comp or voluntary company benefits.
HOMEOWNERS: Prices of building materials are skyrocketing. If the cost to replace your home has now quadrupled, then your policy should reflect that, or you are grossly underinsured.
Example: Fred's house burns down. He paid $250 and remortgaged last year for $300K. It was insured 10 years ago for $250,000. The cost to replace the home is now over $460,000. His insurance hands him a check for $250K. He doesn't have the additional $260K for rebuild so he gives the check and still owes $50K to the mortgage company. He now rents, still paying off the $50K and owns nothing.
Don't risk losing your home. Get a free policy review. You may save a lot of money at the same time by having a broker shop your policy with other carriers, and bundling with Auto, Umbrella, and Boats, ATV's, or Motor Home.
Professional help is FREE and close by. Our FREE Bucks County Enrollment Center has helped thousands of your neighbors with their insurance needs. Brokers have access to 200 insurance companies. Clients are covered correctly and with the lowest priced products. Fortunately, mistakes that people make by enrolling themselves can be corrected.
Ron Hyman – Insurance Shops