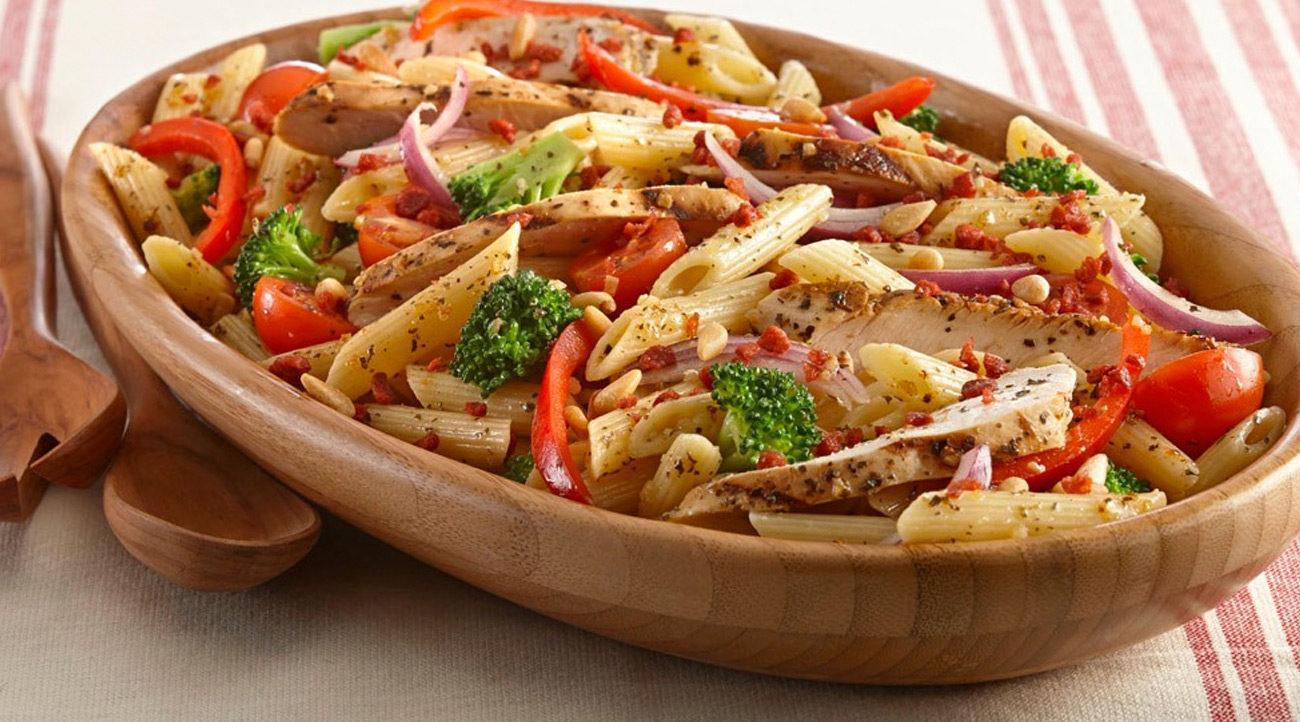 Chicken and Vegetable Pasta Salad
It's official, well almost…. Summer is here and that means salads, salads and more salads! We're either trying to watch our waists, wanting to enjoy seasonal fruits and vegetables or just looking to make our life easier vis a vis kitchen duties. We help with all of that this month. In fact, the Chinese Noodle Salad and the Chicken and Vegetable Salad can all be made with an already cooked rotisserie chicken you can purchase in the store. Can't get any easier than that!
So, get those flip flops ready and pack up one of these salads for your beach cooler. You might take a little extra in case you have some drop-in guests! Enjoy!
Chicken and Vegetable Pasta Salad
8 oz. fusilli pasta, cooked
1 1/2 C. cubed chicken, cooked
1 1/2 C. broccoli florets, blanced
1 6 1/2 oz. jar marinated artichoke hearts, undrained
1 red bell pepper, cut into strips
1/2 C. frozen peas, cooked
1/2 C. chopped green onions
1 3 1/2 oz. can pitted black olives, drained
Dressing:
1/2 C. olive oil
1/2 C. mayonnaise
1/3 C. red wine vinegar
1 tsp. dried dill weed (fresh dill is even better!)
1/2 tsp. dried oregano, crumbled
1/4 tsp. dried basil, crumbled
1/4 tsp. dried tarragon, crumbled
1/2 C. grated Parmesan
Combine first 8 ingredients in large bowl.
Mix oil and next 6 ingredients in blender. Season with salt and pepper. Pour enough dressing over salad to season to taste. Sprinkle with Parmesan and toss.
Chinese Noodle and Chicken Salad
2 lbs. linguine
1/4 C Oriental sesame oil
1 2 1/2 lbs roasted chickens, skinned, boned, shredded
4 bunches green onions, sliced
2 bunches fresh cilantro, chopped
4 jalapeno chilies, seeded, deveined, minced
1 1/4 lbs snow peas, stringed, thinly sliced
Dressing:
1 C. soy sauce
1/2 C. creamy peanut butter
(don't use old-fashioned style or freshly ground)
1/2 C. rice vinegar
1/2 C. oriental sesame oil
2 Tbsp. sugar
Salad: Cook linguine al dente. Drain & rinse in cold water. Transfer to large bowl and add sesame oil. Toss. Mix in chicken, onions, cilantro and chilies.
Cook snow peas in medium saucepan of boiling water until crisp-tender. Drain and rinse with cold water to cool. Drain well and mix into salad.
Dressing: Combine soy sauce, peanut butter, vinegar, sesame oil and sugar in processor. Blend until smooth. Pour dressing over salad and mix to blend. Line serving platter with greens and mound salad in center. It's a showstopper!
Goat Cheese Pasta Salad with Tomatoes and Basil
8 oz. fusilli pasta
8 Tbsp. olive oil
4 Tbsp. sherry wine vinegar
2 Tbsp. balsamic vinegar
1/4 tsp dried crushed red pepper
1/4 tsp. salt
4 large plum tomatoes, seeded, chopped
4 green onions, thinly sliced
18 Kalamata olives, pitted
1 large can tuna, drained
11 oz. soft herb goat cheese, cut into chunks
1/2 C. packed fresh basil leaves, cut into thin strips
Cook pasta according to directions al dente. Drain and rinse under cold water. Transfer to large bowl and toss with 2 Tbsp. olive oil. Cover and refrigerate until cold.
Combine both vinegars, crushed red pepper and salt in small bowl. Whisk in remaining 6 Tbsp. oil. Pour over pasta. Add tomatoes, green onions, olives and tuna and toss to coat.
Add goat cheese and sliced basil to salad. Toss. Season to taste and enjoy!
Boboli Pizza with Garlic, Peppers and Goat Cheese
1/4 C. olive oil
1 large red onion, thinly sliced
6 large garlic cloves, thinly sliced
1/2 large red bell pepper, thinly sliced
1/2 large yellow bell pepper, thinly sliced
1/4 tsp. dried crushed red pepper
1 16-oz Boboli (baked pizza crust)
5 oz. soft goat cheese, crumbled
1 Tbsp. fresh thyme leaves
Preheat oven to 450°F. heat olive oil in heavy large skillet over medium-low heat. Add sliced onion and garlic and saute until very soft, about 20 minutes. Add sliced bell peppers and saute 5 minutes. Mix in dried crushed red pepper. Season to taste.
Place pizza crust on cookie sheet. Tip skillet so oil goes to one side. Brush pizza crust with oil. Top with onion-pepper mxture. Sprinkle with cheese and thyme. Bake until cheese melts, about 12 minutes. Cut and serve. Yum!