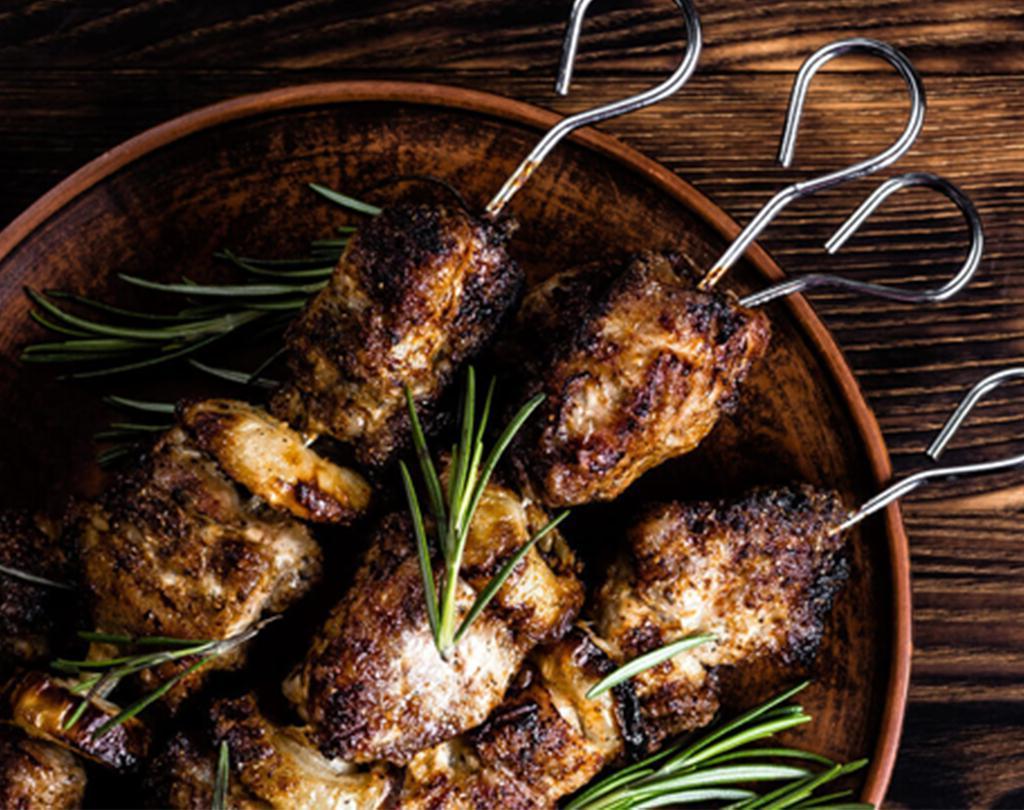 The Persian Grill
The Persian Grill is a jewel of a restaurant tucked away in a non-descript strip center in Hatboro. You can find it along the York Road corridor approaching the Turnpike. We've visited a number of times, and have been delighted consistently – and so have our quests! Warm and cozy, the ambiance is comforting and welcoming. It feels like a true neighborhood place.
I'll be honest, from the moment we walked in to the first bite I tasted, I no longer became an unbiased reviewer! I found and find the whole dining experience at The Persian Grill so very pleasant.
We always start with an order of hummus and a side of the Salad-Shirazi. Served with their interpretation of pita, the hummus is creamy and lemony. Their pita is thinner than usual, but delicious and perfect for scooping! It's not as filling as some more doughy pita might be. The salad is  composed of chopped onions, tomatoes, cucumbers and scallions with fresh-squeezed lemon juice and olive oil. This is a favorite. My partner is not necessarily a salad man, but THIS salad makes his hit parade. He LOVES it. Our friend Phil, sops up the remaining dressing with pita until the plate is spotless!! Both sides can be shared at the table. No need for just one person to enjoy it! If you're a bit larger group, maybe 5 or more, get two orders of each…. you'll need it!
If you're a vegetarian or if you like vegetables, The Persian Grill will satisfy. If you are a simple meat and potatoes man, like our friend Ivan, The Persian Grill will satisfy. Don't be put off by its exotic name or suggestion of being otherwise, The Persian Grill can make any "meat and potatoes" guy happy. Trust me!
All entrees are served with Basmati rice. Delish! It's imported and prepared in such a way that most of the starch is removed. Fluffy and tasty, it's the just-right accompaniment to all the grilled vegetables that come with your dish. And you'll have leftovers to enjoy for lunch or dinner the next day!
For all you "meat guys" their kebabs are tender and grilled to perfection. We've enjoyed both their lamb and beef. I've enjoyed their chicken. You can order a plate with one skewer or two, and again, you could actually share a two-skewered entree. You'll see your plate comes filled to the brim with rice and grilled tomatoes, onions and peppers, and if you want to indulge in some appetizers or side orders, which we recommend… sharing is a good idea. (My partner and devoted husband actually agrees to share at The Persian Grill!) You might try their eggplant dish, Mirza Polo. It's served with eggs that I request be removed. I'm not an "egg" person. But the dish is interesting and filled with oven roasted eggplant served over vegetables…. and of course their delicious Basmati rice.
Everything is flame-broiled, grilled, nothing is fried, mostly low in fat and calories. And it's fun! There aren't many places for dining where you can enjoy the best of all worlds. You can at The Persian Grill. And, it's a BYOB. So bring a bottle and linger. You'll want to savor every bite.
The Persian Grill serves a full complement of luncheon plates, including appetizers, entrees, salads and gyros. All gyros are served on pita and accompanied by an appetizer of the day. And again, all meats, chicken and vegetables are flame-broiled…. and healthy for you!! Even better, they're tasty!
When you're finished your meal, check out their desserts. Persian ice is refreshing , and their baklava is just right on the sweet scale. Truth be told, we don't often have dessert, because we've filled up with dinner and just can't bear to put another morsel in our mouth! I promised myself that on our next visit I would start with dessert, continue on with a side and finish with my entree! I think that's the only way I'll get the full dessert experience. By the way, their coffee is very good. My hubby is the coffee maven and he always enjoys a cup after his meal. (I linger over my wine!)
We love The Persian Grill. The owners are a hard working couple, always present, nurturing and growing this little gem. They offer a big smile and welcome to every patron and are eager to help with your selection. They're our kind of people.
Check out this restaurant. Go with another couple or two and you can order a few different dishes and share. It would make your whole dining experience even more fun. And remember to tell them you heard about them here in The Uptight Suburbanite. They'll be pleased to know you saw them between our covers and we'll be happy to know you told them!!
The Persian Grill
802 South York Road
Hatboro, PA 19040