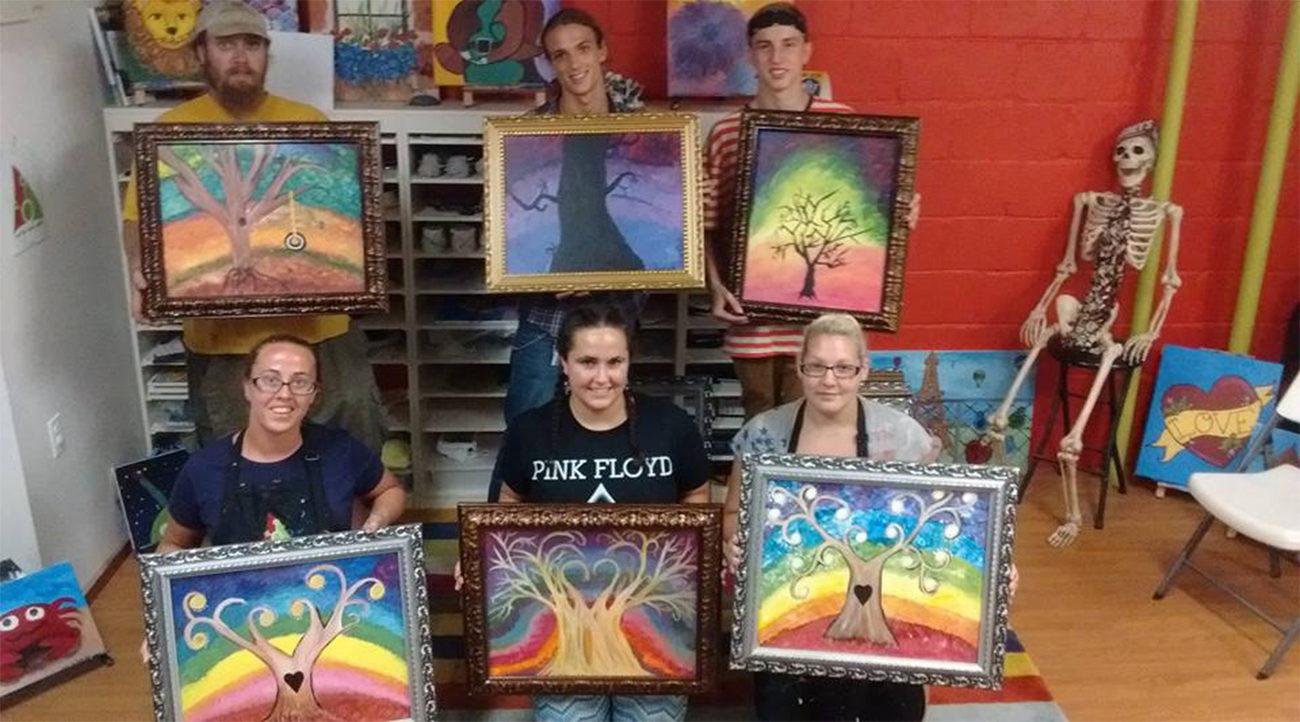 Art in the Pod… Go outside your comfort zone
Yep! We finally did it! Last week Allen and I let our inner Van Gogh and Picasso show through. We joined one of the evening BYOB adult painting classes at Art in the Pod, a really "happening" venue off of Bustleton Pike in Churchville. Mind you, it was a weeknight and still, the house was filled with smiling adults eager to start the evening's activity.
Rich and Nina Kohn are the owners and managers, and creative minds behind this fun, creative space. During the day, it serves as an art studio for students of all ages, providing classes for kids as young as three or four years old. The studio is open and bright and, unexpectedly, orderly and clean. You can see finished projects all around, including samples of their latest modality, glass fusion pieces. And it's clear that this pod is a hub of activity 24/7.
Nina is the teacher, providing gentle instruction to the most novice of first time artist. I saw her in action with adults and I imagine her younger students respond equally as positive to her calm and encouraging guidance. Supported by a very encouraging staff, even the most apprehensive of artists can feel the creative juices running.
Nina and her crew offer a whole range of classes in clay, drawing and painting, and now, glass fusion. Additionally, they offer all sorts of Holiday Mini Camps, Spring Break Mini Camps and Summer Camps. (Where was Nina when Gabe was younger?) They also do a lot of event-specific programs, like Birthday Parties, Family Days, Ladies Nights and of course, the BYOB Paint Nights. She advised me they can provide a class for any occasion, for young and old, and she's done so in their Churchville location.
This particular evening we were welcomed at the door by Rich, Nina's husband and cohort in "crime." He shared a bit of history… they're both native Philadelphians, and both loving what they've put together in their "Pod." Not an artist by training, Rich manages to do his fair share of creating. He's the mastermind behind the glass fushion work and it's really special. You can see many of his projects displayed on the walls. Neat… And if you look over at his workbench, along one side of the studio, you'll notice a lot of other interesting pieces that he's just experimenting with. I found his "space" eye catching. Nina finds it needs straightening up! Either way, it feeds into the creative spirit that envelopes the whole "pod" that the endearing couple have birthed.
So what about the BYOB Adult Paint Nights?! Well, they're definitely BYOB. People come in with their preferred cocktail and assorted snacks. Cheese and crackers, soft pretzels, whatever lends to the evening of fun and relaxation, folks set them up and sip and munch their way through the wonder and delight of creativity. The smiles and laughter are abundant.
The night we were there we "replicated" the iconic pop image, LOVE, by artist, Robert Indiana. Replicated is not exactly the correct word as everyone was invited to execute their own interpretation of his work. Allen was definitely leaning towards a Picasso bend. No surprise there. Me…. well, let's not say where my "execution" went. I am not an artist, but that's not the idea. The idea is to have fun, and fun we had… in spite of my reservations!
And everyone else had fun, too. The room was filled with enthusiastic chatter, and serious concentration. AND, a lot of really good work. Allen and I were impressed with some of the canvasses. Really. (We weren't impressed with ours!)
It's a great night out with friends or family. Entertaining and relaxing… Rich and Nina, and their whole crew, are warm and welcoming. Their "this is fun" demeanor takes all the apprehension out of producing "artwork." A trip to their studio is a chance for self-expression. How often and where else could we get that opportunity? I can only guess how such an environment fosters all their art students, regardless of age and accomplishment.
Allen and I are already planning another visit. And if you're looking for an interesting night out, something of an adventure, you might plan a visit, too. It's very special. My only recommendation… come prepared with your "drink" and cheese. That's half the fun!! And, oh yes, don't forget the beret.
Thanks guys! Van Gogh & Picasso!
Art in the Pod
216 Bustleton Pike
Churchville, PA 18966
215-355-9278
www.artinthepod.com